Get ready to unleash the fury of the Black Templars on the battlefield with the Crusader Squad, a formidable mix of 5 Primaris Initiates and 4 Neophytes led by a Veteran Sword Brother. These Troops come equipped with a range of devastating weapons, from pyreblasters and power fists to heavy bolt pistols and Astartes chainswords.
To build your Crusader Squad, choose from a variety of helmeted and unhelmeted heads for the Initiates, and equip them with auto bolt rifles, heavy bolt pistols, pyreblasters, or power fists. One Initiate can be built as a Sword Brother, with options for a power sword or power axe, and a heavy bolt pistol or pyre pistol. The Neophytes come with four unhelmeted head options and can be equipped with bolt carbines or bolt pistols and Astartes chainswords. With this diverse range of loadout options, your Crusader Squad is ready to prove their worth in close combat or at range.
Also available in this box:
Primaris Crusader Squad Datasheets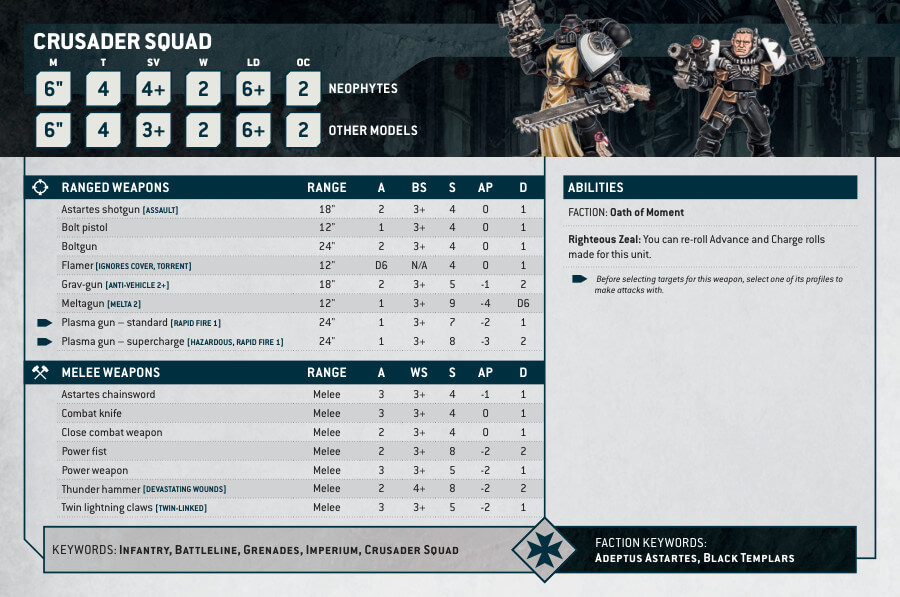 What's in the Primaris Crusader Squad box
x228 plastic components allowing you to assemble 5 Primaris Initiates, 1 Sword Brother and 4 Neophytes with various weapon options.
x1 Citadel 40mm Round base (Sword Brother).
x5 Citadel 32mm Round bases (Initiates).
x4 Citadel 28mm Round bases (neophytes).
How to paint the Primaris Crusader Squad