The ultimate survivor and lone wolf,  a true Astra Militarum legend among the Imperial Guardsmen. Shrouded in mystery and known for his silent and deadly nature, Marbo is a force to be reckoned with. With a mere nod to acknowledge orders, he disappears into the shadows, only to reappear with deadly precision, leaving behind a trail of unimaginable destruction. His enemies are left in awe, believing they are facing an entire army rather than a single man.
This resin kit offers the components needed to assemble the iconic Sly Marbo, a highly decorated warrior of Catachan. From his muscular physique and rugged tank top to the cigar firmly clenched between his strong jaws, Marbo exudes an aura of rugged masculinity. His minimalistic attire, comprising combat boots, tight trousers, and a plethora of straps and pouches, allows for swift and unrestricted movement on the battlefield. Armed with his distinctive ripper pistol, capable of firing armor-piercing rounds, and wielding a lethal Catachan fang drenched in deadly toxins, Marbo is a formidable opponent.
The detailed base of Sly Marbo showcases his ferocity and cunning. With his Catachan fang plunged into the head of a defeated Ork and a carnivorous plant poised to activate explosives behind him, Marbo demonstrates his relentless determination and resourcefulness in combat. Nothing can deter this fearless warrior.
Sly Marbo Datasheets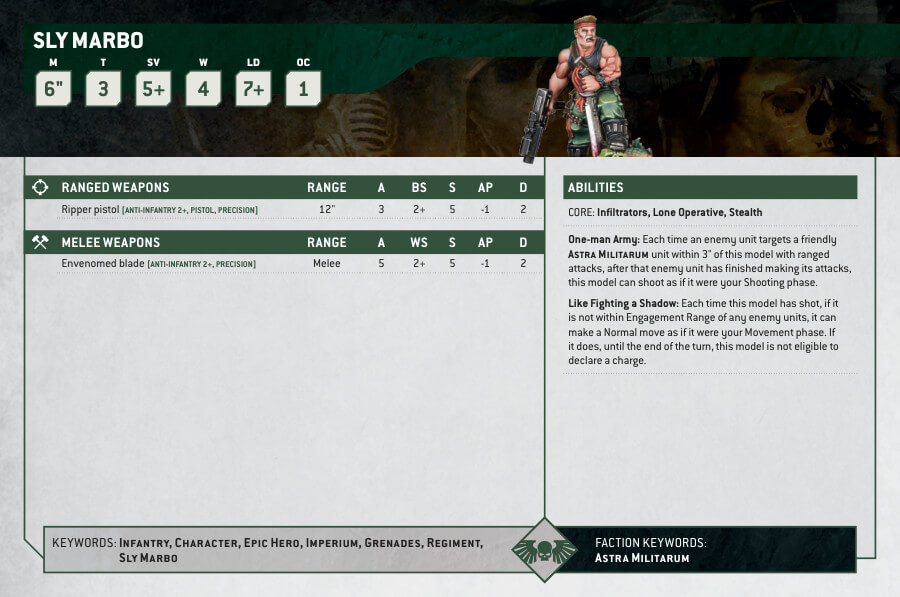 What's in the Sly Marbo box
x8 resin components: This multi-part resin kit provides all the necessary components to assemble the legendary Sly Marbo.
x1 Citadel 32mm Round base: The kit comes with a Citadel 32mm Round base, which serves as the foundation for Sly Marbo's dynamic pose and adds stability to the miniature.
How to paint the Sly Marbo set