The Valkyrie is a versatile twin-engine attack aircraft that can transport Astra Militarum soldiers into battle while providing air support. It has a detailed interior, including optional heavy bolter door gunners and pilots with interchangeable heads. The kit comes with a choice of nose-mounted weapon, either a lascannon or multi-laser, and a pair of underslung hellstrike missiles or rocket pods mounted beneath its wings. Additional components are included to customize the Valkyrie, such as an aquila sigil and variant targeting systems. It also includes a clear flying stand that can be attached without glue and removed to represent landing.
Valkyrie Datasheets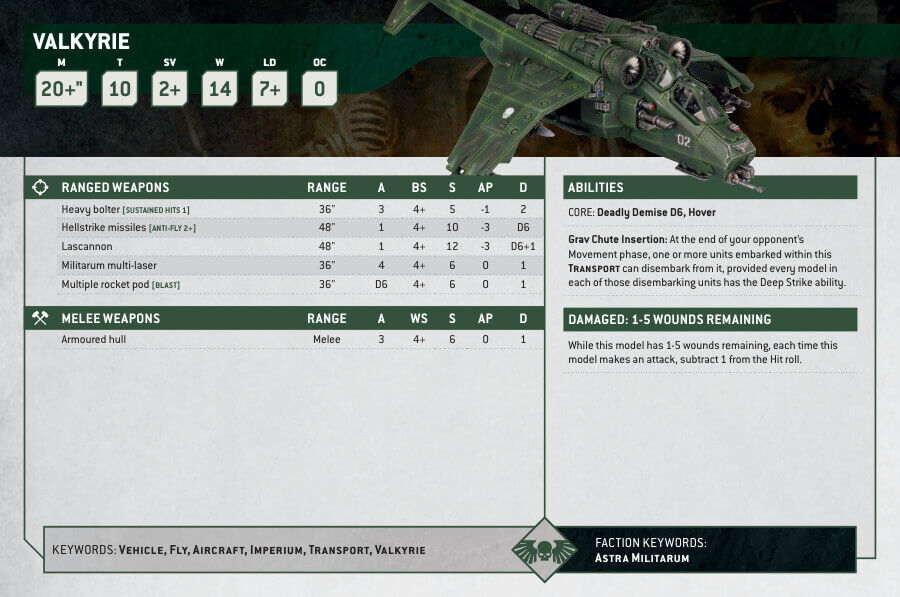 What's in the Valkyrie box
x128 plastic components to assemble the Valkyrie.
x1 Astra Militarum Vehicle Transfer Sheet with tactical markings and heraldry
x1 clear flying stand to secure the Valkyrie in a heightened position – the stand can be attached gluelessly, allowing you to remove it to represent landing.
x1 Citadel 120mm oval base.
How to paint the Valkyrie Set