As golden lightning streaking across the battlefield, the Vertus Praetors effortlessly outflank and encircle the heaviest enemy vehicles. No adversary is beyond their reach, not even airborne threats, as the Vertus Praetors combine their firepower to weave intricate webs of flakk that ensnare and annihilate hurtling enemy aircraft with devastating consequences. Witness their unparalleled coordination as they unleash a barrage of destruction upon their foes, transforming the skies into a maelstrom of chaos for any adversary foolish enough to challenge their aerial supremacy.
In this ever-evolving theatre of war, the Vertus Praetors stand as shining beacons of the Adeptus Custodes unwavering dedication. Their mastery of the Dawneagle jetbikes allows them to traverse the battlefield with unparalleled speed and precision, enabling lightning-fast strikes and tactical maneuvers that turn the tide of battle in favor of the Emperor's forces. With every soaring leap and each perfectly executed maneuver, the Vertus Praetors epitomize the epitome of martial prowess, serving as an inspiration to all who witness their awe-inspiring feats.
Vertus Praetors Datasheets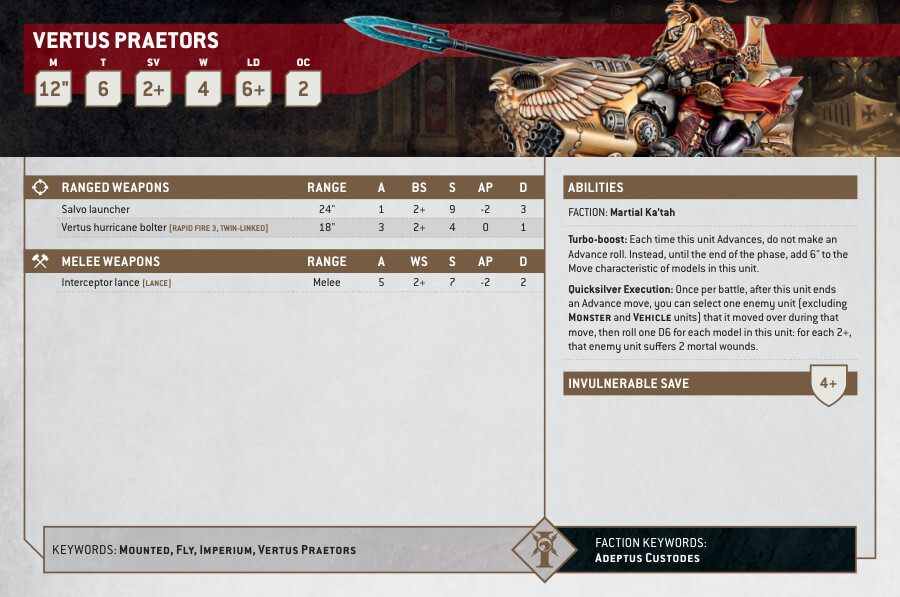 What's in the Vertus Praetors box
x111 components that make 3 Vertus Praetors.The kit can also make a Shield-Captain, who is distinguished by his bare head.
x3 Citadel 75mm Oval stands, with flying stems.
How to paint the Vertus Praetors Set