The Archaeopter, a versatile Adeptus Mechanicus aircraft, has been a steadfast companion to the Tech-Priests for eons, traversing both the toxic skies of Mars and distant worlds on the frontier of their expansion. This agile fixed-wing wonder is piloted by members of the esteemed Pteraxii caste, who meld with its controls through intricate hardwiring. The Archaeopter's wings, woven from nano-carbon fiber, possess a unique capability: they can morph, much like the flight packs of the Pteraxii, granting it exceptional maneuverability. This remarkable feature allows it to adapt to ever-changing atmospheric conditions, making it an aerial marvel that swoops through the skies to deliver payloads of ground-penetrating, tectomagnic bombs, causing seismic shock waves amidst the enemy ranks.
One variant of this incredible aircraft is the Archaeopter Fusilave. Armed to the teeth, it boasts not one, not two, but four cognis heavy stubbers, ensuring a hail of firepower that can suppress and deter even the most determined foes. Additionally, it carries a bomb rack loaded with tectomagnic munitions. From its lofty perch in the skies, the Archaeopter Fusilave can rain devastation upon enemy ground forces below. These bombing runs are not only destructive but also highly disruptive, making it an excellent choice for countering enemy assaults and thwarting their advances.
The beauty of this kit lies in its versatility. It can be used to construct not only the Archaeopter Fusilave but also the Archaeopter Transvector or Archaeopter Stratoraptor. No matter which configuration you choose, you'll find yourself with a surplus of components that offer endless possibilities for customizing your collection. The Archaeopter, in all its forms, is a testament to the boundless ingenuity of the Adeptus Mechanicus and a force to be reckoned with on the battlefield.
Archaeopter Fusilave Datasheets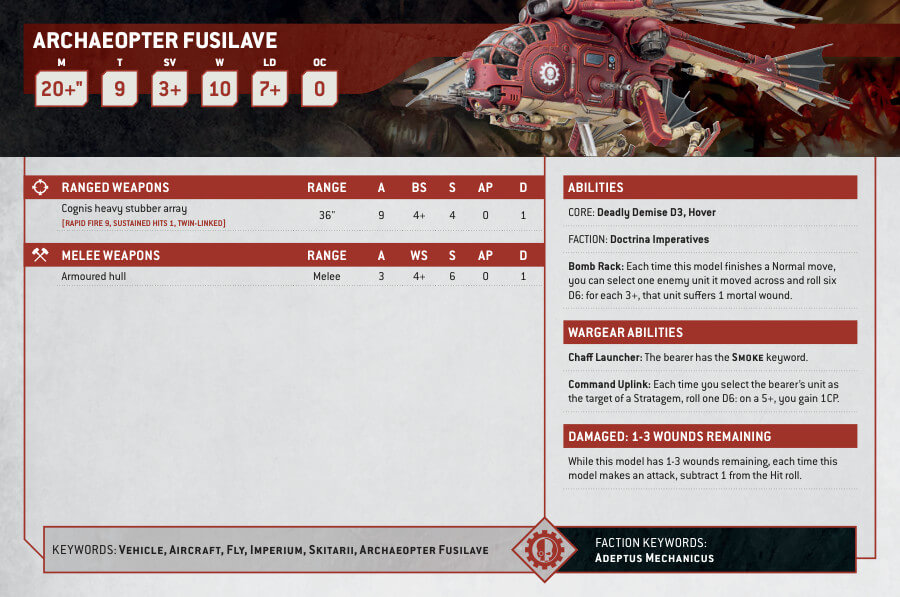 What's in the Archaeopter Fusilave box
x94 plastic components that make 1 Archaeopter Fusilave, a great option for countering enemy assaults, blunting their advances with bombing runs that are equally destructive and disruptive.
x1 Citadel 170mm x 109mm Oval Base.
x1 Citadel 115mm Ball Stem with Tang Adapter,
How to paint the Archaeopter Fusilave Set