The Archaeopter is a versatile Adeptus Mechanicus aircraft that has served the Tech-Priests expansion efforts for millennia. Piloted by a Pteraxii, the Archaeopter's wings can morph, giving it great manoeuvrability and allowing it to saturate enemies with fire from its array of armaments: two cognis heavy stubbers, two heavy phosphor blasters, and a twin cognis lascannon, making it an ideal choice for heavy fire support or dogfighting. With the option to add chaff launchers, it can also defend against incoming enemy fire. The kit can also be used to build an Archaeopter Fusilave or Archaeopter Transvector, giving you plenty of spare components for customizing your collection.
Archaeopter Stratoraptor Datasheets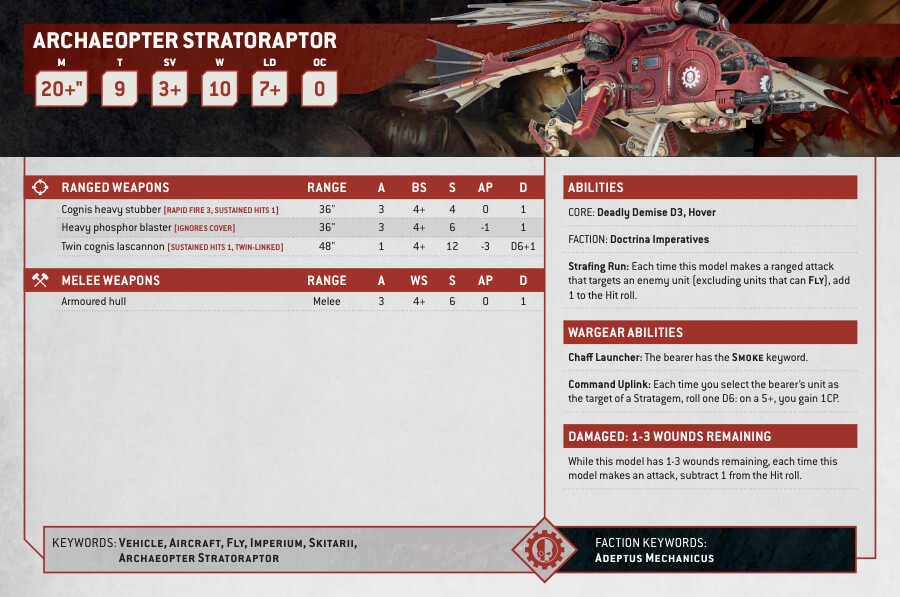 What's in the Archaeopter Stratoraptor box
x94 plastic components used to make this aircraft.
x1 Citadel 170mm x 109mm Oval Base giving your miniature stability on the game board.
x1 Citadel 115mm Ball Stem with Tang Adapter.
How to paint the Archaeopter Stratoraptor Set