Among the greatest warrior-mystics in the galaxy are the Librarians – a rare breed of Space Marines who combine their martial prowess with powerful psychic abilities on the battlefield. With their exceptional mental powers, Librarians can throw energy bolts, project force-shields, and even redirect bullets to overcome their foes.
If you're a fan of the Librarian's unique abilities, you'll be thrilled to know that this multi-part plastic kit contains everything you need to assemble your own Librarian for your army. With 9 components included in the set, you'll have plenty of options to customize your model to suit your preferences.
The Librarian is armed with a force staff, a weapon that channels the power of the Warp to unleash devastating blows against their enemies. The staff is intricately detailed, featuring ornate designs and symbols that reflect the Librarian's status as a master of psychic energies.
In addition to the Librarian himself, the kit also includes an optional Warrior Cherub – a tiny robotic drone that accompanies the Librarian into battle. The Cherub can be used to carry messages or even act as a decoy to confuse the enemy.
Space Marine Librarian Datasheets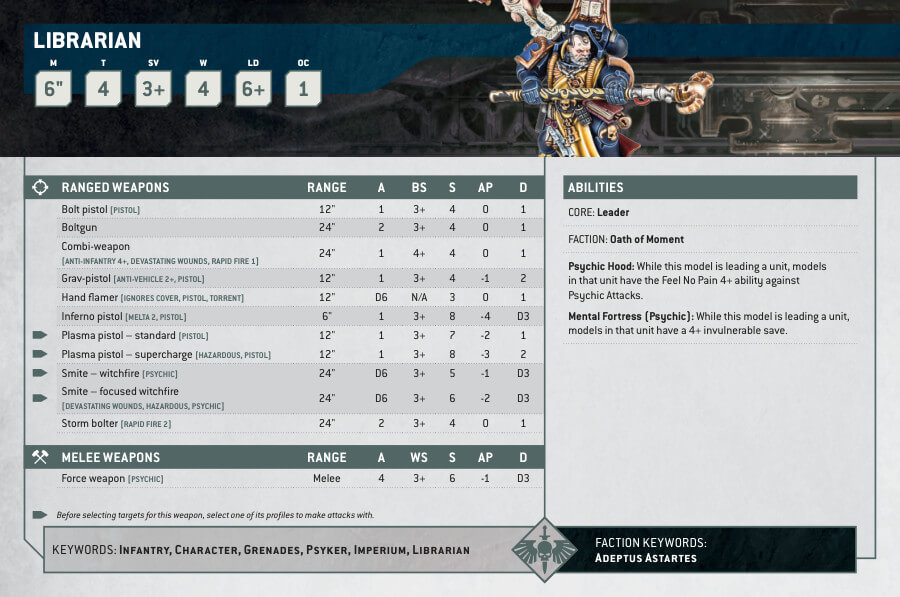 What's in the Space Marine Librarian box
x9 plastic components that you can use to build your own Librarian. With these parts, you'll have plenty of customization options to make your model unique.
x1 Citadel 32mm Round Base.
How to paint the Space Marine Librarian