He is capable of manipulating the colossal energies of the warp to his will, causing the air around him to crackle with power. His ornate Nemesis Daemon hammer, the Malleus Argyrum, is a formidable weapon that can emit purifying flames, reducing his enemies flesh, bone, and armor to pillars of ash.
With a mere thought, Voldus can halt heretic war engines by severing their twisted machine spirits from their chassis. His psychic prowess can also constrict reality, crushing the helms of his enemies with an invisible force. Alternatively, Voldus can sharpen the minds of his fellow Grey Knights, allowing them to channel their reserves and bring down even the largest of Daemons with powerful strikes.
The Grand Master Voldus miniature is a stunning representation of this powerful leader. The model is brimming with intricate details, befitting of his reputation and power. Voldus wears Terminator armor adorned with sacred inscriptions, chains, skulls, and magical tomes. His legendary hammer, standing as tall as he does, is covered in purity seals and cabling, indicating its use as a conduit for his psychic energies. Voldus also wields a wrist-mounted storm bolter on his left arm, making him a formidable opponent in battle.
Grand Master Voldus Datasheets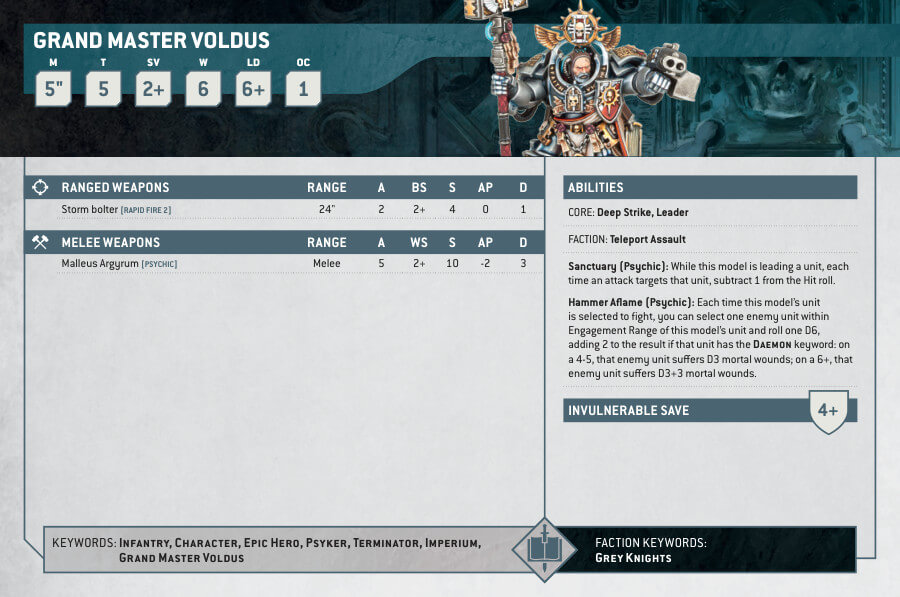 What's in the Grand Master Voldus box
x7 plastic components that make the Grand Master Voldus.
x1 Citadel 40mm Round base.
How to paint the Grand Master Voldus