The Grey Knights are a mysterious organization within the Imperium known for their exceptional combat abilities and unwavering commitment to eradicating Chaos. Through advanced psychosurgery and bioengineering, they are conditioned to become the mightiest warriors in the galaxy, immune to fear and other horrors that could shatter the minds of lesser mortals. As the hammer of the Ordo Malleus, they strike fear into the hearts of their enemies.
At the helm of the Grey Knights stands the Brother-Captain, an unmatched warrior responsible for leading one hundred of the galaxy's finest fighters. Despite the heavy burden of command, the Brother-Captain approaches his role with somber dignity, setting an example for his fellow Battle-Brothers to follow. On the battlefield, he can be found at the forefront of the fighting, inspiring his troops with psychic communication and crushing his foes with his unparalleled combat skills.
Grey Knights Brother Captain Datasheets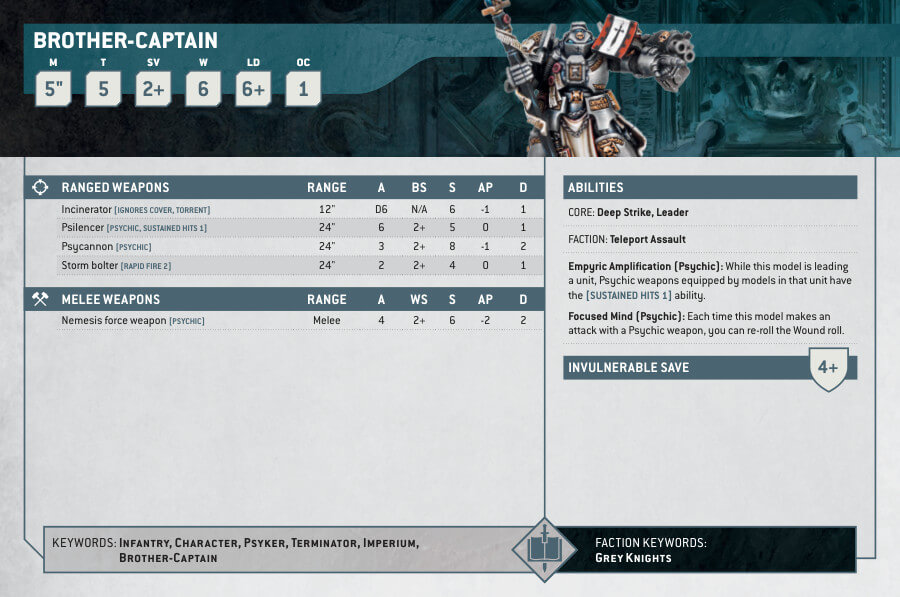 What's in the Grey Knights Brother Captain box
x8 finely detailed resin cast components that make one Grey Knights Brother-Captain.
x1 Citadel 40mm Round base, which is perfect for displaying the finished model.
How to paint the Grey Knights Brother Captain