This colossal multipart plastic kit allows you to assemble a super-heavy Baneblade, a true behemoth of the battlefield capable of withstanding the most punishing assaults. Whether you're planning to build a formidable armored column or simply need a stalwart bulwark for your Astra Militarum forces, this super heavy tank delivers. It comes armed with a devastating baneblade cannon and co-axial autocannon on the turret, a demolisher cannon on the forward hull, 2 lascannons on side turrets, twin heavy bolters on a forward hull turret, 2 twin heavy flamers in sponson mounts, and a heavy stubber in a pintle mount atop the turret. The sponson flamers can be swapped out for an additional 2 twin heavy bolters, and you have the option to add extra sponsons equipped with lascannons, twin heavy bolters, or twin heavy flamers. The sheer volume of firepower at your disposal is truly impressive.
The kit also offers various cosmetic customization options, such as additional stowage, extra armor plating for the treads, tow hooks, fuel containers, and choices for gunners and tank commanders in the hatches – including a selection of different heads. You can even opt to assemble the tank commander on foot, armed with either a bolt pistol or laspistol in one hand and a power sword or pointing hand in the other. With this kit, you'll find plenty of spare plastic components to bolster your bits box and enhance your modeling options. The Baneblade is a force to be reckoned with, and its presence on the battlefield is sure to leave a lasting impression.
This massive kit can alternatively build a variety of other super-heavy tanks:
Baneblade Datasheets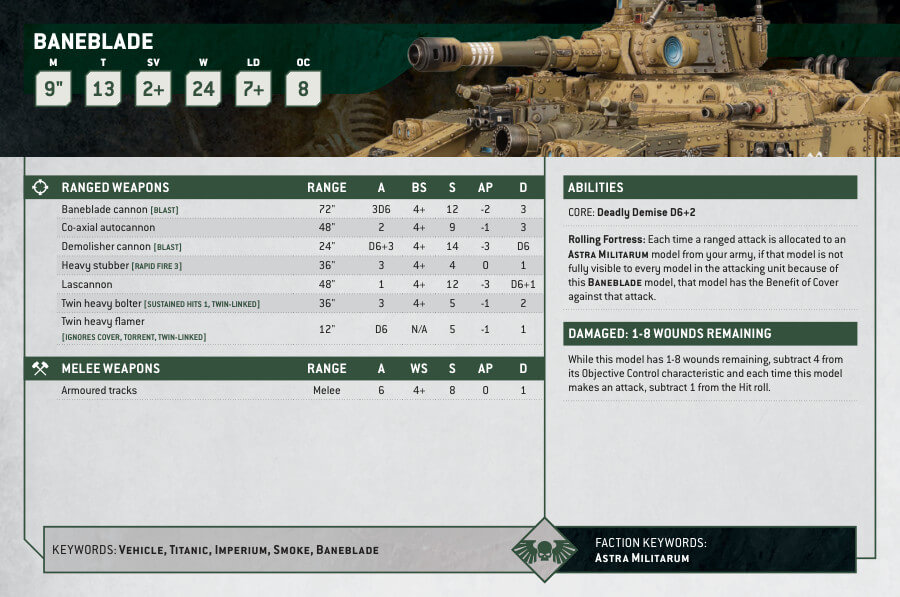 What's in the Baneblade box
x381 plastic components to buid this impressive tank.
x1 Baneblade Transfer Sheet with 253 transfers.
How to paint the Baneblade Set