Grey Knights Strike Squads are a crucial part of a strike force and often lead the way into battle. These veterans are equipped with lighter armor compared to Terminator Squads and are capable of moving quickly and efficiently, able to slip through gaps in the enemy line. A Grey Knights commander will typically deploy one or more Strike Squads to capture important locations and objectives at the start of a battle. They can even be deployed via fixed teleporters, allowing them to quickly seize isolated or hard-to-reach areas.
Without Strike Squads reconnaissance and preparation, Terminator Squads would be rendered ineffective. The Strike Squads role is essential to the success of the Grey Knights mission.
This ten-model kit features Grey Knights with Nemesis force swords, including a Justicar who can be built to lead the unit. Each model is intricately detailed with inscriptions, purity seals, and other hallmark features of this elite army. The Justicar boasts a unique helmetless head.
The kit also includes an assortment of weaponry and unit upgrades to help players customize their Strike Squads. Nemesis falchions, Nemesis force halberds, a Nemesis Daemon hammer, a Nemesis warding stave, two psycannons, a psilencer, and an incinerator are just some of the options available.
Also available in this box:
Grey Knights Strike Squad Datasheets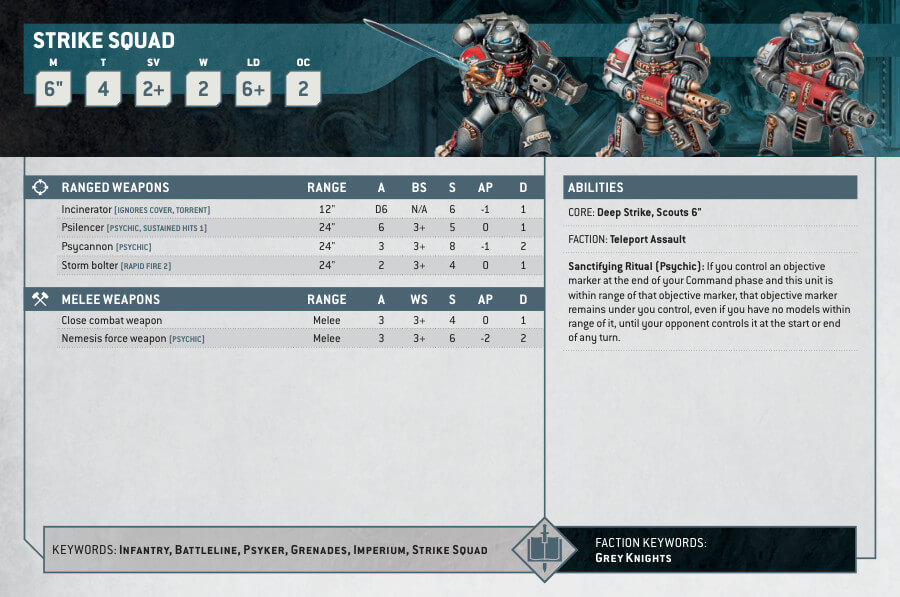 What's in the Grey Knights Strike Squad box
x236 plastic components providing everything needed to assemble one of these squads:
x10 Citadel 32mm Round bases
How to paint the Grey Knights Strike Squad set