This multi-part plastic kit is your gateway to commanding a Knight Preceptor, a prestigious choice in the Lords of War choice for your Imperial Knights armies or a wandering Freeblade ready to serve other Imperium forces. This super-heavy walker comes equipped with a variable las-impulsor and Preceptor multi-laser, offering versatility in the heat of battle. Additionally, you have the freedom to select carapace-mounted weaponry to further enhance its capabilities. Notably, the Knight Preceptor can support allied Armiger-class squires, adding strategic depth to your army.
Beyond its battlefield prowess, the Knight Preceptor offers an exciting painting project. With an abundance of customization options and intricately detailed components available during assembly, you have the opportunity to craft a truly distinctive war machine. Let your creativity run wild as you bring this noble knight to life with your unique touch.
While this kit is designed to create a Knight Preceptor, it offers even more possibilities. Assemble it as one of several other Questoris-class Imperial Knights, including the Errant, Paladin, Crusader, Gallant, Warden, or the renowned Canis Rex. Alternatively, venture into the realm of Chaos Knights by constructing a Knight Despoiler. Any remaining weapons, faceplates, or accessories can be kept as valuable spares, ready to enhance your other Knight kits.
Knight Preceptor and Canis Rex Datasheets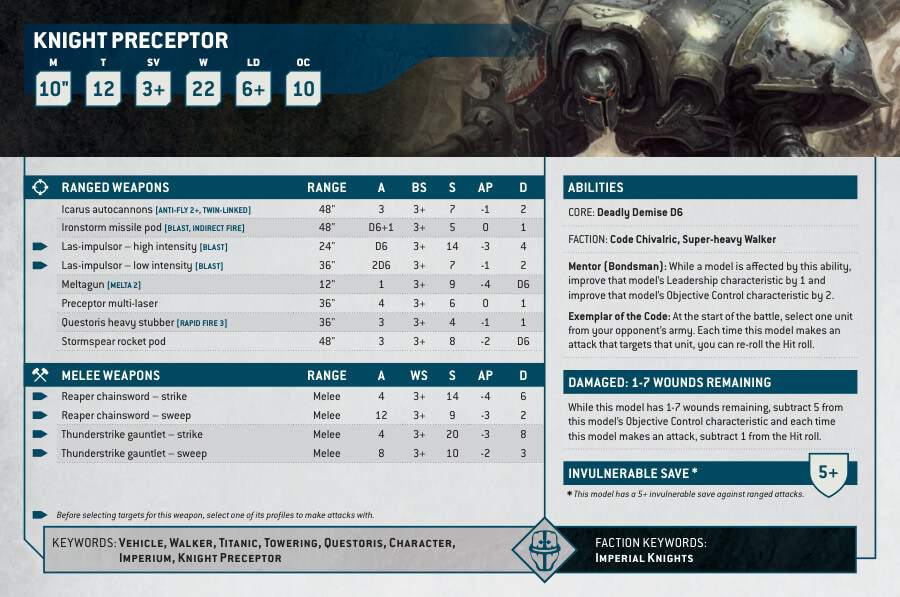 What's in the Knight Preceptor box
x250 plastic components that make the Knights Preceptor, an honorable and exemplary Lords of War choice for your Imperial Knights armies.
x1 Citadel 170mm Oval Base
x1 Citadel 25mm Round Base
x1 transfer sheet, featuring heraldry for Imperial Knights.
How to paint the Knight Preceptor Set