The Hellhound is a versatile and intimidating Astra Militarum tank designed for close combat warfare. With its different variants, it can flush out enemies, melt through armor, or create clouds of noxious gas to choke alien hordes. This plastic kit builds one Hellhound, featuring a powerful turret-mounted weapon of your choice, including an inferno cannon, chem cannon, or melta cannon, along with a secondary weapon of your choosing, such as a heavy bolter, heavy flamer, or multi-melta. The tank can also be built with a spotter or closed turret hatch. The kit is perfect for those who enjoy a daring and reckless playstyle, with the tank's reputation for destruction appealing to those looking for a thrilling and exciting experience on the battlefield.
Hellhound Datasheets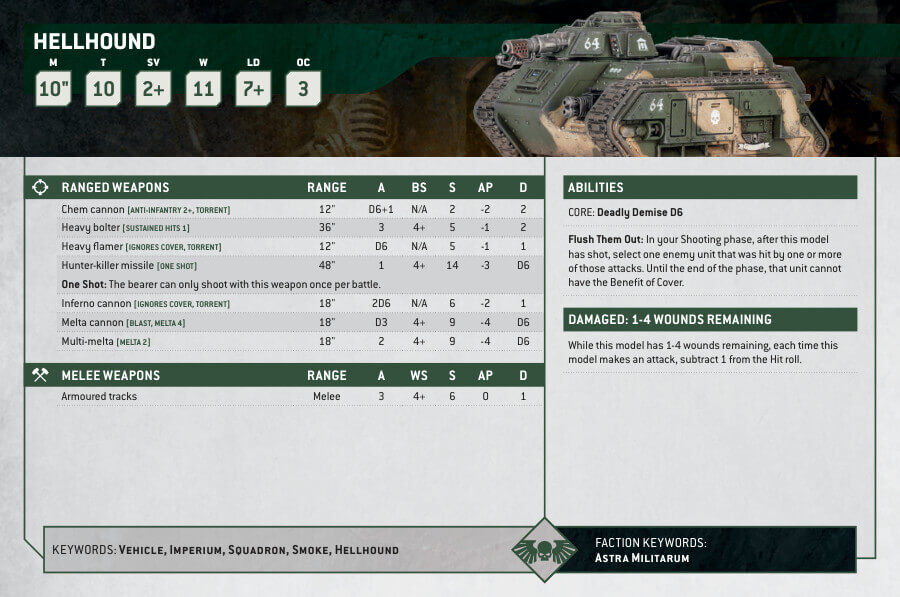 What's in the Hellhound box
x176 plastic components that make 1 Hellhound tank.
x1 Astra Militarum Vehicle Transfer Sheet, featuring tactical markings, numerals, and other regimental heraldry.
How to paint the Hellhound Set