In the grim and distant future of the Warhammer 40,000 universe, where battles are waged on a colossal scale, the Imperial Knight Gallant stands as a juggernaut of destruction. Engineered for one purpose – close-range annihilation of foes – this formidable war machine leaves very few adversaries standing after its initial assault.
As the ground trembles beneath its colossal feet, the Imperial Knight Gallant advances relentlessly, closing the gap between itself and its prey with astonishing speed. Its imposing robotic form, though massive, belies its deceptive agility. Within moments, it is within striking range, poised to unleash a torrent of devastation with both its reaper chainsword and thunderstrike gauntlet. When a Knight Gallant charges into the fray, it resembles a tidal wave crashing upon the enemy lines, emerging from the chaos unscathed.
This multi-part plastic kit provides all the components necessary to construct your own Imperial Knight Gallant, a true embodiment of Imperial might and power. The model's sheer presence is awe-inspiring, from its menacing faceplate to the raw, industrial aesthetics of its exposed hydraulics system, which fuels its brutal assaults.
A Detailed Breakdown of Components
Contained within this kit are four frames of plastic components, each meticulously crafted to assemble the Imperial Knight Gallant:
Imperial Knight Carapace Components: This frame includes the knight's imposing carapace, engine block assembly, shoulder pads, shoulder joints, two sets of carapace heraldry, and a heavy stubber.
Imperial Knight Leg Components: Construct the knight's legs and feet assemblies, greaves, waist assembly, chestplates, faceplates, a pennant, tilting plate, and armor plates for the knees and groin.
Imperial Knight Weapons: Arm your knight with a thermal cannon, rapid-fire battlecannon, heavy stubber, two alternate faceplates, and torso assembly.
Imperial Knight Warden Frame: This frame provides the thunderstrike gauntlet, avenger gatling cannon, carapace-mounted twin icarus autocannon, carapace-mounted missile launcher with the choice of ironstorm, shieldbreaker, or stormspear missile pods, meltagun, three alternate faceplates, and tilting plate.
Using these carefully crafted frames, you can construct the foundational structure of this Imperial Knight. Add the reaper chainsword and thunderstrike gauntlet, and you have a fully-fledged Imperial Knight Gallant ready to bring righteous fury to the battlefield.
Imperial Knight Gallant Datasheets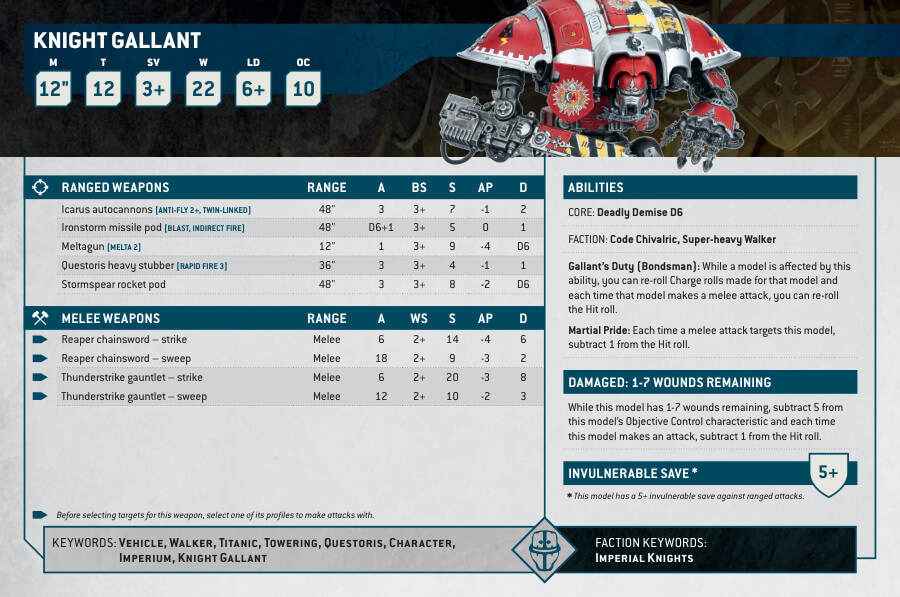 What's in the Imperial Knight Gallant box
x250 components that make one Imperial Knight Gallant. Aditionally, this kit can be built as either a Paladin, Errant, Warden, or Crusader. The weapons and faceplates are interchangeable and can be used as spares for any other Knight kits you might have.
x1 Citadel 170mm Oval base.
x1 transfer sheet featuring heraldry for Imperial Knights.
How to paint the Imperial Knight Gallant Set