The Knights Paladin are the unsung heroes of many lance formations, providing a strategic backbone that's highly valued by noble houses across the Imperium. While they may not specialize in a single role, their versatility makes them a favorite choice among houses. These noble war machines are equipped with a rapid-fire battle cannon, a devastating artillery piece aimed directly at the enemy, coupled with a formidable close combat weapon. Seasoned Nobles cherish these mighty steeds, as their experience on the battlefield allows them to fully exploit the tactical flexibility of the Paladin.
This multi-part plastic kit allows you to construct your very own Knight Paladin, a potent Lords of War selection for your Imperial Knights armies, or a wandering Freeblade ready to aid other Imperium forces. This super-heavy walker boasts a rapid-fire battle cannon and offers a range of options for melee and carapace-mounted weaponry. Additionally, it has the unique capability to provide guidance to allied Armiger-class squires. The Knight Paladin is not only a formidable force on the tabletop but also an exciting painting project. With a wealth of customization possibilities and meticulously detailed components, you can fashion a truly distinct engine of war.
But that's not all! This versatile kit can also be assembled into various other Questoris-class Imperial Knights, including the Errant, Crusader, Gallant, Preceptor, Warden, or the renowned knight known as Canis Rex. Alternatively, it can take the form of a Knight Despoiler, ready to serve the forces of Chaos Knights. Any remaining weapons, faceplates, or accessories can be kept as spares for your other Knight kits. Additionally, this kit includes parts to construct an exposed pilot seated within the Knight's chassis or a pilot on foot, adding an extra layer of detail and narrative to your model.
With the Knights Paladin kit, you have the power to create a truly iconic addition to your collection, whether you're a seasoned collector or just embarking on your journey into the world of Imperial Knights.
Knight Paladin Datasheets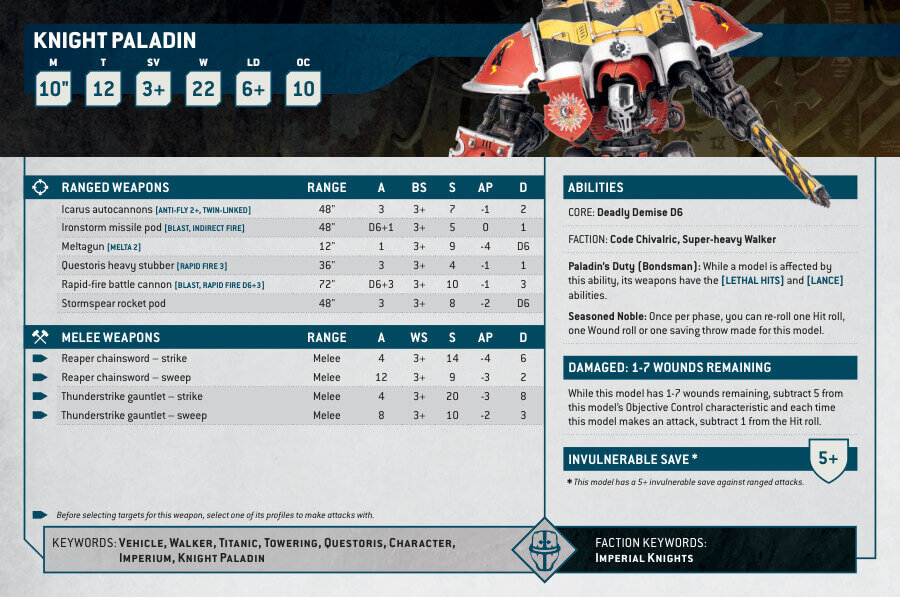 What's in the Knight Paladin box
x250 plastic components that make one Knight Paladin or other Questoris-class Knights(mentioned above).
x1 Citadel 170 x 109 mm Oval Base.
x1 Citadel 25mm Round Base.
x1 transfer sheet, featuring heraldry for Imperial Knights.
How to paint the Knight Paladin Set