The Land Speeder is a remarkable vehicle that uses advanced repulsion plate technology to glide effortlessly over a planet's gravitational field, allowing it to perform agile low-altitude maneuvers. Among the various types of Land Speeder, the Land Speeder Storm is a particularly versatile model that can be adapted to suit a variety of tactical situations. Whether serving as a mobile firebase, an assault transport, or a stealth insertion craft, the Land Speeder Storm is an essential tool for any Space Marine commander. With its impressive speed and maneuverability, the Land Speeder Storm offers unparalleled flexibility on the battlefield, allowing Space Marine units to quickly respond to changing combat objectives and gain the upper hand against their foes.
Land Speeder Storm Datasheets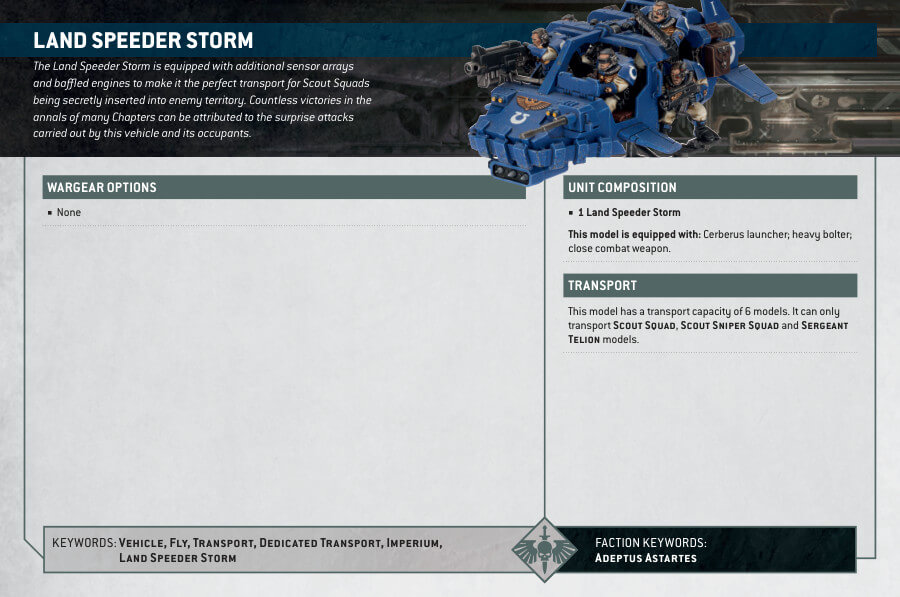 What's in the Land Speeder Storm box
x99 pieces, this set offers a wide range of customization options, allowing you to build The Land Speeder Storm. The set also contains a Cerberus launcher, a heavy bolter and a range of head, weapon and arm options for the Scout crew. Also included are a host of accessories including: pouches, grenades, scopes, packs and knives.
x6 Space Marine Scouts, each with a variety of head, weapon, and arm options to choose from.
x1 large flying base.
How to paint the Land Speeder Storm set