The Librarians serve as the psychic warriors among the Space Marines, possessing the ability to channel their psychic powers into battle.
Those who prove themselves worthy have the privilege of donning the revered Terminator armor of the first company, granting them the means to enhance the effectiveness of elite infantry spearheads.

Whether engaged in intense boarding actions, fierce urban combat, or standing on the front lines against overwhelming enemy forces, they lend a lethal psychic advantage.
The newly introduced Librarian is equipped with the finest armor crafted by the Chapter, known as artificer-wrought armor, which bears intricate engravings of protective wards designed to counteract any adverse effects of their psychic abilities.
Unlike renowned figures like Njal Stormcaller of the Space Wolves or Mephiston of the Blood Angels, this Librarian is not tied to any specific chapter, as evidenced by the absence of particular symbols or logos. This makes it convenient for you to seamlessly integrate him into your existing forces.
In the absence of the flowing robes that usually mark members of the Librarium, our psychic champion has opted for plenty of runic ornamentations on his Terminator armour. He's also sporting the classic horned skull icon, worn by Librarians since the days of Rogue Trader.
Furthermore, the Librarian wields an imposing Force Axe, a formidable weapon reserved for moments when mental projectiles alone prove insufficient to dispatch the enemy.
Also available here:
Librarian in Terminator Armour Datasheets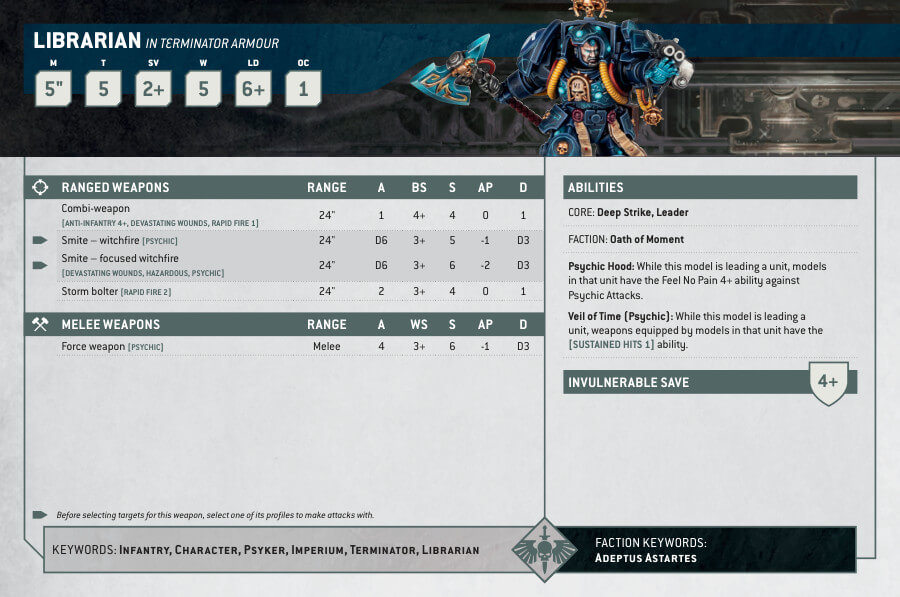 What's in the Librarian in Terminator Armour box
x14 plastic components that make one Librarian in Terminator Armour.
x1 Citadel 40mm Round Base.