Primaris Inceptors, the swiftest of their brethren, serve as the leading edge of Space Marine forces. They execute lightning-fast strikes, leaving their enemies in disarray while paving the way for subsequent waves of Space Marines. These warriors are equipped with jump packs and robust armor, enabling them to descend from a planet's upper atmosphere and maneuver through the skies before landing amidst their foes.
This multipart plastic kit provides all the components needed to construct a trio of Primaris Inceptors. These soldiers wear Mk X power armor with distinctive jump packs mounted on their backs, allowing them to perform rapid, bounding leaps to close in on the enemy swiftly. The jump packs are a central feature of the miniatures, featuring adjustable fins, shock-absorbing apparatus on the boots, and unique cabling and vents exclusive to this kit. Inceptors can be armed with either two plasma exterminators each, with heavy shielding against heat discharge, or two assault bolters each, featuring distinctive box magazines.
The kit also includes five helmets designed to be used with the blast shield cowls, ensuring there are no bare heads. Additionally, you'll find three blast shield helmets and four purity seals, one of which is a double seal to designate the Sergeant. These intricate details contribute to the individuality of each Inceptor in your collection.
Primaris Inceptors Datasheets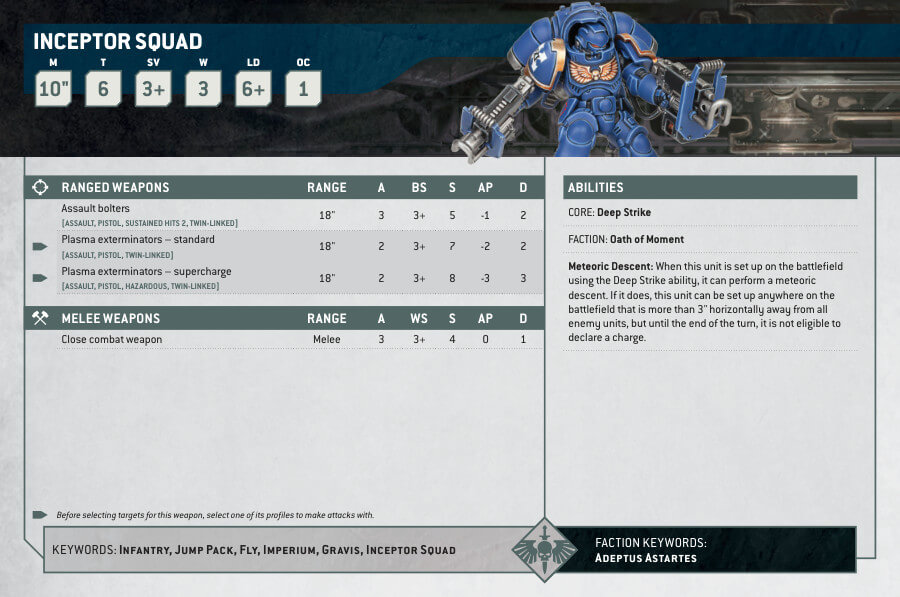 What's in the Primaris Inceptors box
x117 plastic components that make 3 Primaris Inceptors, giving you plenty of options for customization and making each miniature unique. This allows you to create a truly personalized unit that reflects your own style and preferences.
x3 Citadel 40mm Round bases.
x3 45mm flying stems, which are used to mount the miniatures and give them the appearance of flying through the air. This adds to the unit's dynamic, high-speed look and makes them stand out on the tabletop.
x1 Ultramarines Infantry Transfer Sheet, which allows you to add some extra detail to your miniatures by applying decals with ease. This is a great way to personalize your miniatures and make them stand out even more on the battlefield.
How to paint the Primaris Inceptors