This multi-part plastic kit contains all the necessary components to assemble a Space Marines Primaris Repulsor that can carry up to 10 soldiers into battle while also providing them with a vast array of weaponry to defend themselves. The Repulsor has various options, including a turret-mounted heavy onslaught gatling cannon that can be swapped with a las-talon, a front-mounted twin heavy bolter that can be replaced with a twin lascannon, a pintle-mounted ironhail heavy stubber that can be replaced with an onslaught gatling cannon, and a rear-mounted Icarus ironhail heavy stubber that can be swapped with an Icarus rocket pod, storm bolter, or fragstorm grenade launcher. Additionally, it has two storm bolters that can be replaced with two fragstorm grenade launchers or Auto Launchers, which can also be replaced with two fragstorm grenade launchers.
The Repulsor also features a variety of modelling options, including six stowage assemblies that can be configured in countless different ways with cases of grenades and rocket pods modelled open or closed. The top hatch can be modelled either open or closed, and if the open option is chosen, a Tech-marine can be placed in the hatch either operating the pintle-mounted weapon or pointing toward the foe. The Repulsor also boasts various details expected from an Imperial craft, including lights, radar arrays, huge exhaust vents, and an aquila displayed prominently at the fore.
Primaris Repulsor Datasheets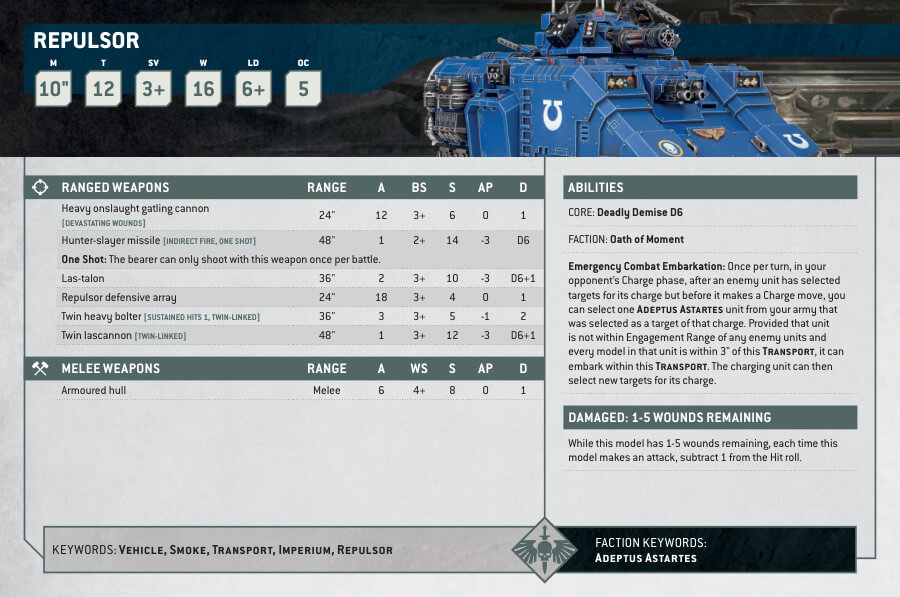 What's in the Primaris Repulsor box
x168 plastic components that make the Primaris Repulsor.
x1 transfer sheet to customize the vehicle's decals
x1 Citadel 100mm Round base with a clear hover stand. The clear hover stand can be set at an angle to give the model a dynamic look. Additionally, the hover stand adds camber, which is the tilt of the wheels or the entire vehicle towards one side or the other, depending on the angle set.
How to paint the Primaris Repulsor