The Space Marine Vanguard Veterans are a highly versatile and mobile close-combat unit composed of veterans from the 1st Company who are equipped with jump packs and some of the Chapter's most revered melee weapons. The Vanguard Veteran Squad kit comes with 5 members, each with a unique set of running legs, torso fronts, and shoulder pads, as well as a variety of weapon options including chainswords, bolt pistols, lightning claws, thunder hammers, storm shields, relic blades, power swords, power fists, power axes, grav pistols, plasma pistols, melta bombs, and grenades. The kit is also fully compatible with other Space Marine kits, allowing for endless customization and the creation of unique collections of miniatures.
Vanguard Veteran Squad Datasheets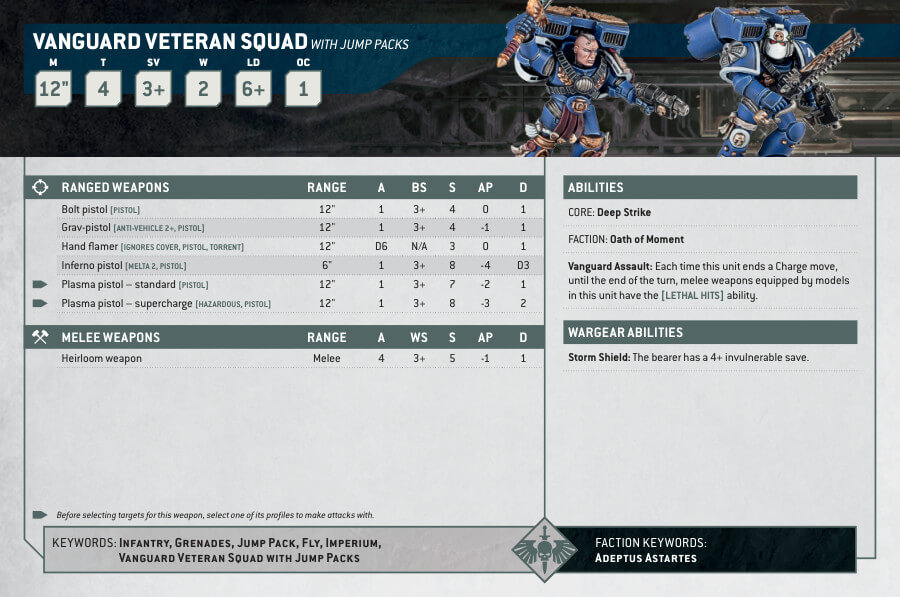 What's in the Vanguard Veteran Squad box
x98 plastic components, allowing players to assemble a 5-man squad of Space Marine Vanguard Veterans. The kit includes a wide range of customization options:

x5 sets of running legs
x5 unique torso fronts
x16 different shoulder pads
x9 head options (8 helmeted, 1 bare)

x5 Citadel 32mm Round Bases.
How to paint the Vanguard Veteran Squad Set