Kaldor Draigo is a legendary hero of the Grey Knights, known for his exceptional martial skill and unwavering devotion to the Emperor. He first gained notoriety as a young Battle-Brother, where he was able to defeat the Daemon Prince M'kar the Reborn and banish him back to the Warp. Since then, Draigo has risen through the ranks of the Grey Knights to become their Supreme Grand Master.
However, his victory over M'kar came with a terrible price. Draigo is now cursed to exist within the Warp, the chaotic realm of the Ruinous Powers. Despite this, he has managed to retain his sanity and purity, a testament to his incredible strength of will and unshakeable faith.
This multi-part plastic kit allows you to build Kaldor Draigo, complete with his signature Daemonhammer and ornate power armour. The kit includes various options to customise your model, such as a choice of heads and a banner.
Lord Kaldor Draigo Datasheets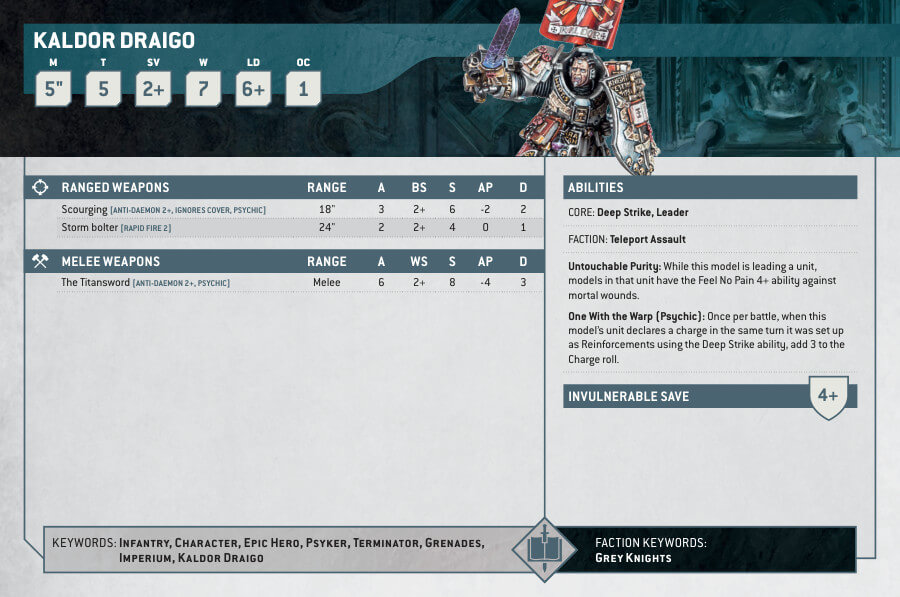 What's in the Lord Kaldor Draigo box
x4 resin components that create Lord Kaldor Draigo.
x1 Citadel 40mm round base.
How to paint the Lord Kaldor Draigo