The promotion from Skitarii maniples to the prestigious Serberys corps is a highly esteemed accomplishment in the ranks of Adeptus Mechanicus. Mounted on swift quadrupedal constructs with razor-clawed limbs, the Serberys Raiders possess exceptional mobility over even the most rugged terrain. Their mag-locked riders maintain gyro-stabilized positions, ensuring stability and control. These long-range scouts and outriders excel at flanking enemy forces and eliminating vulnerable targets. Enhanced ocular arrays linked to their mounts provide unparalleled accuracy, while heightened olfactory sensors and advanced augury equipment make them relentless and feared trackers.
Equipped for combat at any range, Serberys Raiders wield galvanic carbines for potent ranged attacks and finely crafted cavalry sabres for deadly melee engagements. The squad's alpha is armed with an archeo-revolver, delivering devastating firepower. With their versatility, they serve as a formidable vanguard, capable of riding ahead of their Skitarii comrades and even targeting high-value enemy command assets.
Serberys Raiders Datasheets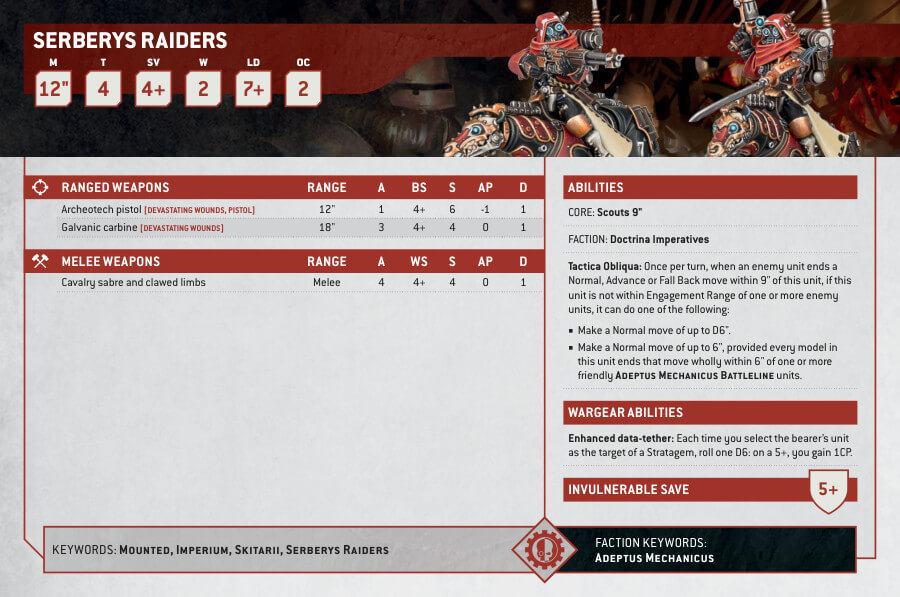 What's in the Serberys Raiders box
x103 plastic components with which to assemble 3 models.This kit can alternatively be used to build a unit of Serberys Sulphurhounds instead, meaning that regardless of which unit you assemble, you'll end up with plenty of spare components for customising your collection.
x3 Citadel 60mm x 35mm Oval Bases
x1 Adeptus Mechanicus transfer sheet.
How to paint the Serberys Raiders Set