Meet the spiritual leaders of Space Marine Chapters – the awe-inspiring warrior priests known as Chaplains. These revered figures are responsible for administering rites, preserving rituals, and performing ancient ceremonies that are crucial to the success of a Space Marine Chapter. From initiations to vindications and redemption, their duties are just as important as a Chapter's roll of honour or skill at arms.
Every Space Marine Chapter has its own Chaplain, who is a leader in both devotions and combat. In fact, they are second only to the company Captain in rank. And now, you can add a Primaris Chaplain to your collection with this multi-part plastic kit.
The Primaris Chaplain comes equipped with iconic jet-black Mk X power armor featuring unique greaves. He wields his absolver bolt pistol and crozius arcanum with fierce determination, ready to take on any enemy. His hooded cassock lends him an air of sinister intensity, with spikes, chains, skulls, and purity seals adorning his attire. His helmet features a skull design, and the chestplate of his armor is modified to portray an exposed ribcage – a constant reminder of the mortality that his enemies face.
But that's not all – his backpack also boasts an attached iron halo with 12 points, representing the High Lords of Terra. As you assemble this kit, you'll appreciate the attention to detail and quality of the materials and once completed, your Primaris Chaplain will be a stunning addition to your collection, ready to lead your Space Marine forces into battle.
Primaris Chaplain Datasheets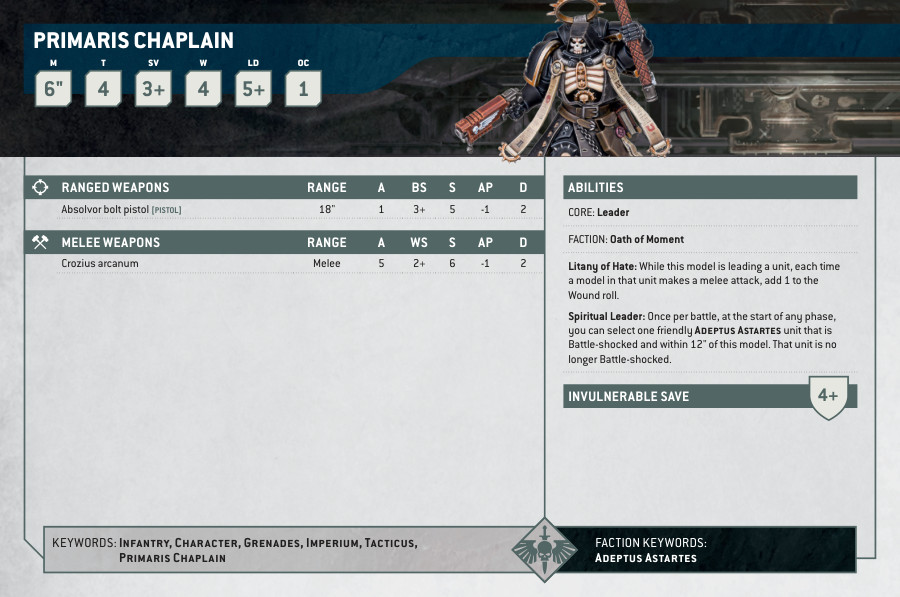 What's in the Primaris Chaplain box
x12 plastic components that make 1 Primaris Chaplain.
x1 Citadel 40mm Round base, which is the perfect size for displaying your completed miniature
x1 Space Marines Character Transfer Sheet. This sheet features a variety of iconography, including Captain, Chaplain, Librarian, and Lieutenant designs. You can use these transfers to customize your miniature and make it truly unique.
How to paint the Primaris Chaplain