Looking for a powerful weapon for your Space Marines, to obliterate your enemies? Look no further than the Thunderfire Cannon! This impressive war machine is mounted on tracks that make it both rugged and reliable. With its quad-barrelled gun, the Thunderfire Cannon is capable of unleashing a punishing rate of fire. One of the most exciting features of this weapon is the Techmarine's ability to set the shells to detonate in different ways, depending on the tactical situation. The surface detonation is ideal for enemies in open terrain, while airburst shells can clear out foes hiding behind cover. However, the most devastating barrage is a shell that burrows deep into the ground before exploding – the resulting shockwave is often enough to knock even the toughest enemies off their feet, making them vulnerable to other weaponry. Whether you're looking to thin out hordes of lightly-armoured troops or take out heavily-armoured enemies, the Thunderfire Cannon is the perfect tool for the job.
Thunderfire Cannon Datasheets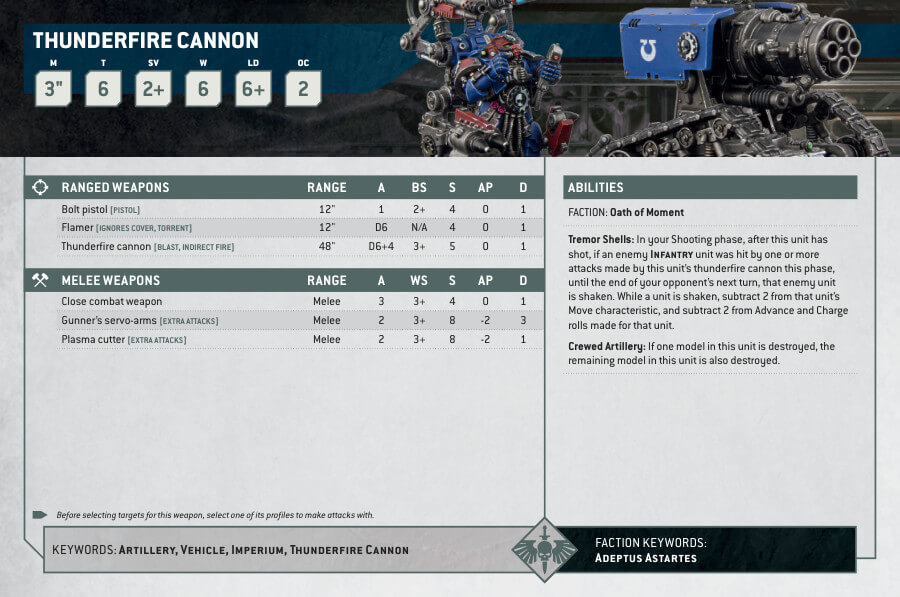 What's in the Thunderfire Cannon box
x31 resin components that make one Thunderfire Cannon and Techmarine Gunner.
x1 Citadel 25mm round base for the gunner.
How to paint the Thunderfire Cannon Set