The Exorcist stands as a remarkable symbol of the Adepta Sororitas' devotion to the Emperor and their unyielding determination to purge heresy. This awe-inspiring war machine is not just a vehicle but a rolling shrine, a testament to the grandeur of the Master of Mankind, adorned with intricate craftsmanship. As it advances into battle, the Exorcist projects inspirational hymns that resonate across the battlefield, instilling faith and pride in the hearts of all loyal Imperial servants.
When squadrons of Exorcists form armored spearheads, their collective symphonic chants turn the blood-soaked battleground into a sacred cathedral. Battle-weary warriors find renewed vigor, and those facing overwhelming odds discover newfound courage to stand their ground. And then, as if guided by divine intervention, the Exorcist launches its rocket salvos into the heart of the enemy, altering the very course of battle.
The Exorcist is armed with a hull-mounted heavy bolter and offers a choice between the formidable Exorcist missile launcher or the devastating Exorcist conflagration rockets as its primary weaponry. Additionally, this vehicle is equipped with smoke launchers for added defense and can be further enhanced with a hunter-killer missile, making it a formidable force on the battlefield. The Exorcist stands as a testament to faith, firepower, and the unshakable resolve of the Adepta Sororitas in their tireless mission to eradicate heresy in the Emperor's name.
Exorcist Datasheets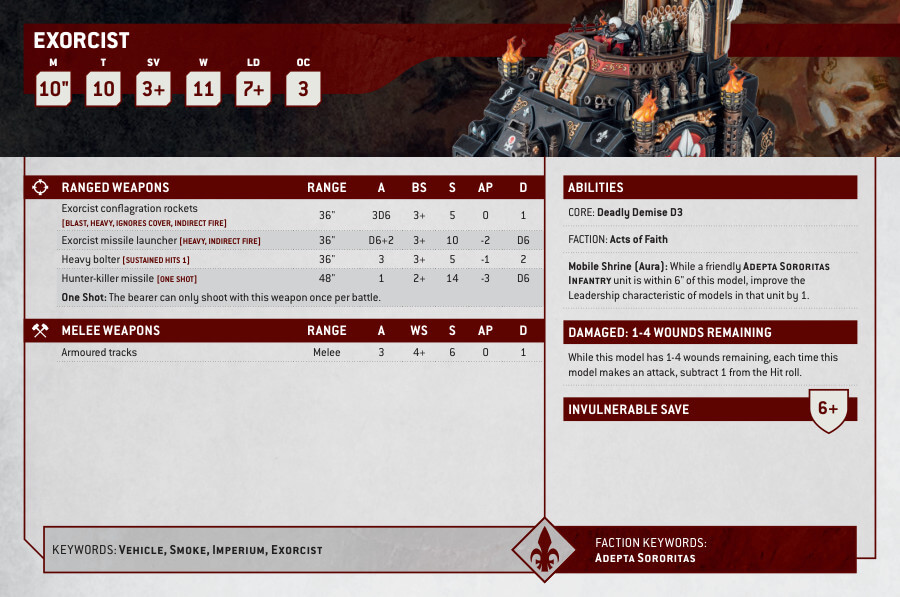 What's in the Exorcist box
x99 plastic components that make the tank and includes all of the Exorcist's weapons and wargear. options.
x1 Adepta Sororitas Transfer Sheet.
How to paint the Exorcist Set
We also left you a video tutorial here.