The Hammerfall Bunker is a formidable weapon in the Space Marine arsenal, capable of being launched from warships just like Drop Pods. Once deployed, these automated area-denial assets, manned by servitors, can take on multiple battlefield roles such as securing beachheads, disrupting enemy assaults, and causing chaos behind enemy lines.
With the Hammerfall Bunker, your Space Marine army gains unparalleled firepower precisely where you need it. The bunker is equipped with a Hammerfall missile launcher, as well as a heavy flamer or heavy bolter array, giving you the ability to inflict significant damage on any nearby enemies, regardless of their direction of approach.The Hammerfall Bunker is compatible with Space Marine armies and can be launched from their warships like drop pods.
Hammerfall Bunker Datasheets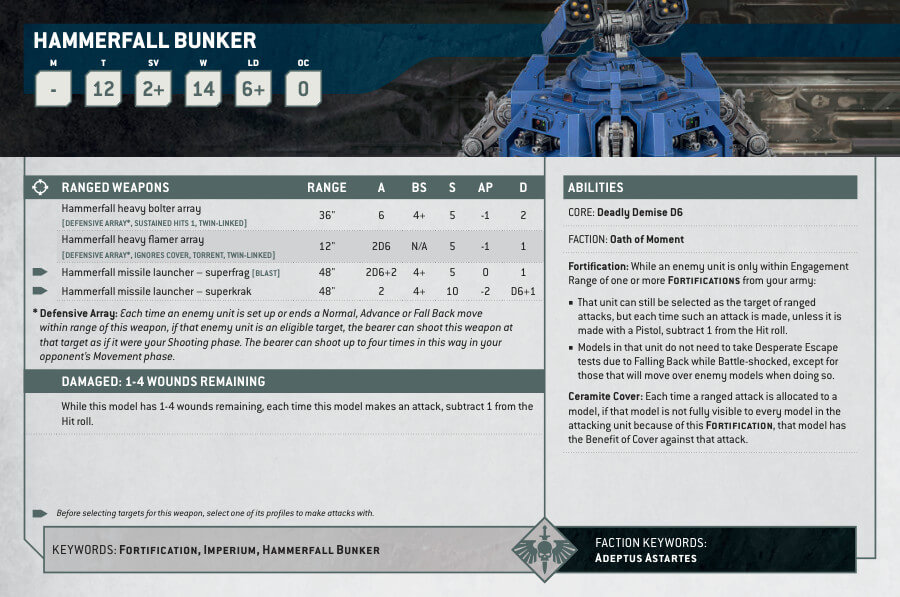 What's in the Hammerfall Bunker box
x64 plastic components that make up the Hammerfall Bunker, a fortification option for Space Marines supplied with a choice of heavy flamer or heavy bolter array, which determines the bunker's primary weapon.
How to paint the Hammerfall Bunker set