Introducing the powerful Command Squads of the Militarum Tempestus, led by skilled and driven officers known as Tempestor Primes, who have proven their expertise through countless successful missions. These officers are accompanied by a team of elite specialists, ensuring their ability to strategically maneuver their highly trained soldiers to achieve objectives with precision.
This versatile multipart plastic kit allows you to construct a formidable Militarum Tempestus Command Squad, featuring a commanding Tempestor Prime and four veteran Scions. The Tempestor Prime is adorned with an imposing greatcoat and can be armed with your choice of command rod, bolt pistol, or plasma pistol. Each Scion can wield a hot-shot lasgun or be equipped with a specialized weapon, including options such as a plasma gun, meltagun, grenade launcher, flamer, or hot-shot volley gun. Furthermore, the kit offers a range of specialist wargear, including a medi-pack, an embossed regimental standard, and a master vox set.
With an abundance of interchangeable components and cosmetic options, you can personalize your Militarum Tempestus Command Squad to your liking. The kit includes an impressive selection of 17 different heads, comprising eight helmets and nine berets, allowing for unique visual customization. Additionally, you'll find accessories such as ammo pouches, knives, grenades, and canteens to add further detail and character. It's worth noting that this kit also provides the flexibility to assemble a squad of Tempestus Scions if desired.
Militarum Tempestus Scions Command Squad Datasheets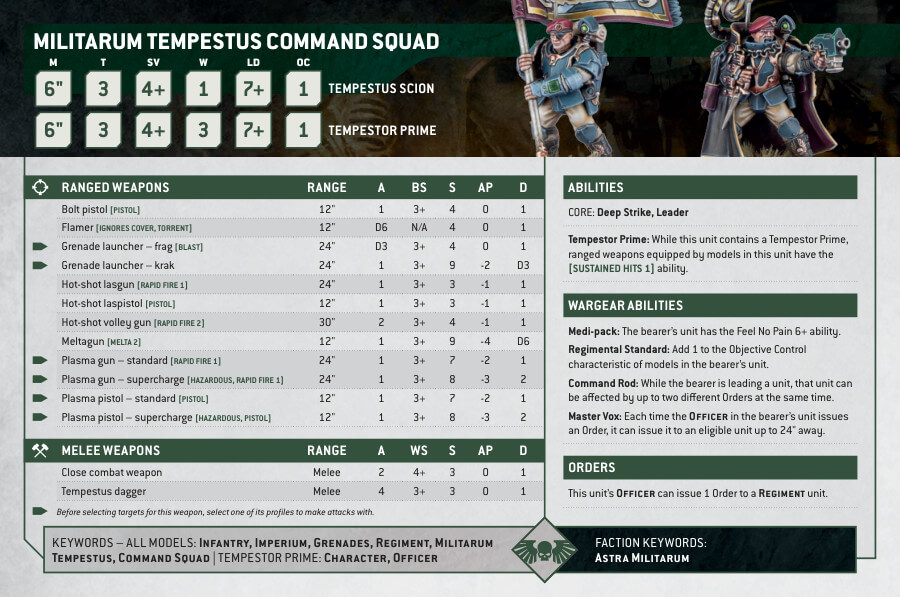 What's in the Militarum Tempestus Scions Command Squad box
x111 plastic components
x5 Citadel 25mm Round Bases
How to paint the Militarum Tempestus Scions Command Squad set