These highly trained soldiers, who undergo rigorous combat training at the renowned Schola Progenium, are equipped with top-of-the-line gear and protected by reinforced carapace armor. Primed for a diverse range of specialist missions and prepared for daring aerial drops into warzones that most would deem suicidal, their primary weapon of choice is the armor-piercing hot-shot lasgun, enhanced with advanced sights.
This multipart plastic kit allows you to assemble five Tempestus Scions, the renowned soldiers of the feared Militarum Tempestus. Each model can be armed with a hot-shot lasgun, and the kit includes an optional vox-caster for enhanced communication. Furthermore, an arsenal of additional weapons is provided to equip specialist gunners, including options such as the plasma gun, meltagun, grenade launcher, flamer, or hot-shot volley gun. To further personalize your models, the kit also includes parts to build one model as a Tempestor squad leader, with a variety of alternative weapon choices for both melee combat and ranged fire, such as the chainsword, power fist, power sword, hot-shot laspistol, bolt pistol, or plasma pistol.
In addition to the extensive weapon options, the kit features an abundance of interchangeable components and cosmetic choices to customize your Tempestus Scions. With a selection of 17 different heads, including eight helmets and nine berets, as well as accessories like ammo pouches, knives, grenades, and canteens, you can create unique and visually striking models that reflect the individuality of your force.
Militarum Tempestus Scions Datasheets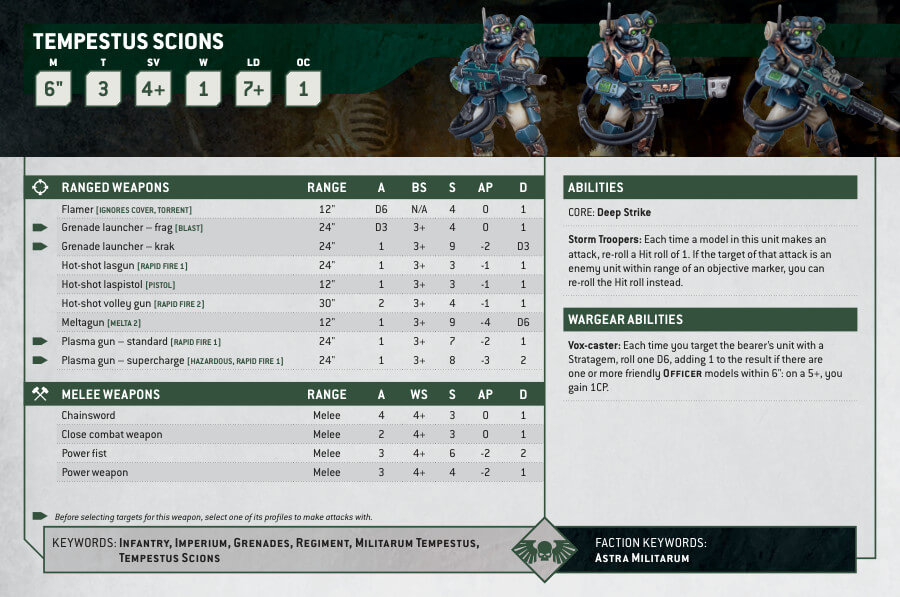 What's in the Militarum Tempestus Scions box
x111 plastic components that make 5 Tempestus Scions. Alternatively, this versatile kit also offers the option to assemble a Militarum Tempestus Command Squad, allowing you to lead your special forces with a team of skilled commanders
x5 Citadel 25mm Round Bases
How to paint the Militarum Tempestus Scions set