The Predator Destructor has been a steadfast presence in the Emperor's armies for over 10,000 years, earning its reputation as a fearsome weapon that can slaughter hordes of enemy infantry, shatter assaults, and lay waste to light vehicles. To the Space Marines, who are always outnumbered, the Predator's firepower has proven to be vital.
This versatile tank is built upon the sturdy Rhino chassis, sacrificing transport capacity in favor of improved frontal armor and a heavy turret-mounted armament. With this kit, you can build a Predator Destructor that's armed with a powerful turret-mounted autocannon. You also have the option of adding two sponson-mounted heavy bolters or two sponson-mounted lascannons, giving you versatility to engage various targets.
In addition to these armaments, the kit also includes an optional storm bolter and hunter-killer missile for added firepower. For even more versatility, you can also build the model as a Predator Annihilator, equipped with twin-linked lascannons to take on heavily-armored targets.
Predator Destructor Datasheets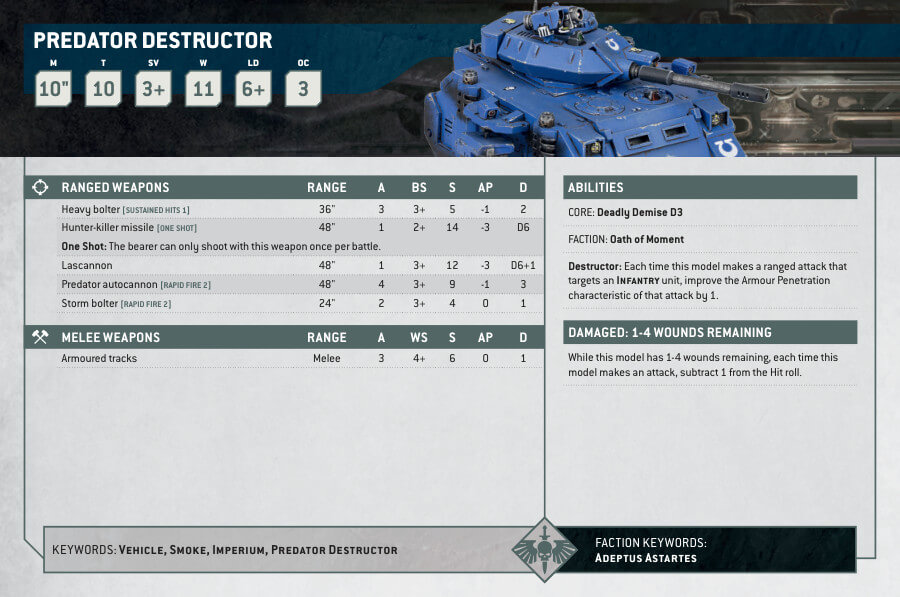 What's in the Predator Destructor box
x94 plastic pieces kit that allows you to build one Predator Destructor or Predator Annihilator.The kit provides a choice of sponson weapons for added versatility.
x1 Ultramarines vehicle transfer sheet is included for customization.
How to paint the Predator Destructor