Aggressor Squads are heavily-armored and mobile troops in the Space Marine armies that can effectively navigate through rough terrain. This makes them versatile soldiers who can be used as reserves to plug breaches in gun lines or to spearhead an advance. While their weaponry may not have a long range, their large-caliber bolter shells can decimate enemy charges when they get close enough to open fire.
The Aggressors have a wider and chunkier silhouette than most Primaris Space Marines due to their heavy Gravis armor. You have the choice of equipping them with auto boltstorm gauntlets or flamestorm gauntlets, and there are three sets of each.
The weapons feature pipes or belts that are fed from the backpacks, and one set of flamestorm gauntlets has retracted barrels, which makes them more effective in close combat. Additionally, if you choose the boltstorm gauntlets, the Aggressors can also take a fragstorm grenade launcher.
You can assemble 3 Aggressors or 2 Aggressors and a Sergeant, and there are six standard Aggressor heads, with respirators on the mask of those using flamestorm gauntlets. The Sergeant also has two unique head options. Flamestorm-wielding Aggressors have their own shoulder pads with larger blast shielding to protect them from the intense operating temperatures of their weapons. The kit also includes reliquaries and purity seals, with special examples for Sergeants featuring extra skulls.
Also available in this box:
Primaris Aggressors Datasheets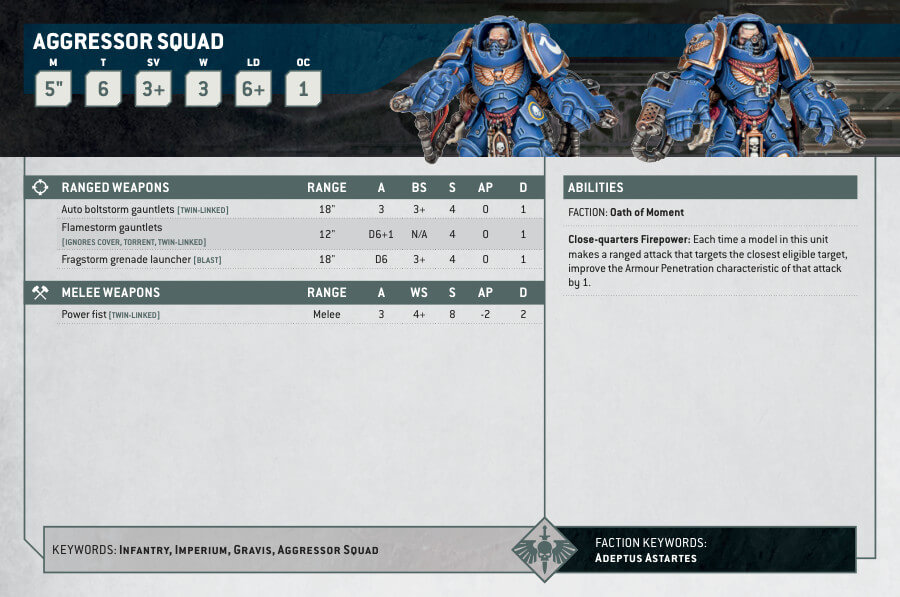 What's in the Primaris Aggressors box
x107 components that make 3 Primaris Aggressors.
x3 Citadel 40mm Round bases.
How to paint the Primaris Aggressors