Unleash unrelenting firepower against any obstacle with these battle-hardened warriors. Each member of the squad offers versatile loadout options, equipped with either a melta rifle or a heavy melta rifle. Additionally, one Eradicator can opt for the formidable multi-melta. For those seeking leadership on the field, you have the choice to designate one squad member as the sergeant.
This kit offers incredible customization opportunities with a generous supply of 20 heads and a variety of other accessories. So, whether you prefer the precision of a melta rifle or the raw power of a multi-melta, the Space Marines Eradicator Squad is your ticket to total annihilation on the battlefield. Prepare to dominate with relentless firepower and unmatched versatility.
Primaris Eradicators Datasheets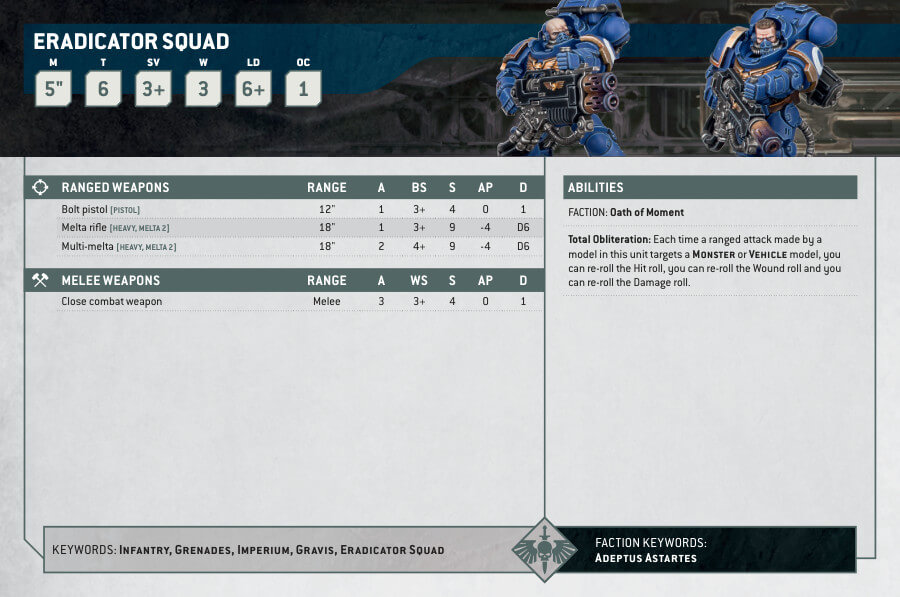 What's in the Primaris Eradicators box
x122-part plastic kit that makes 3 Eradicators.
x3 Citadel 40mm round bases.
x1 Ultramarines Infantry transfer sheet, which can be used to add iconography to the miniatures.
How to paint the Primaris Eradicators