The Whirlwind is a highly versatile Space Marines tank that is based on the Rhino design. It features a lightweight armoured chassis and is armed with a multiple rocket launcher system that can deliver accurate and precise fire to enemy positions. With its advanced target acquisition system, the Whirlwind can easily target hidden or entrenched enemy positions, making it an ideal choice for taking out hard-to-reach targets. Additionally, the Whirlwind is able to operate from behind the safety of cover, making it a great choice for engaging enemies from a distance.
Whirlwind Datasheets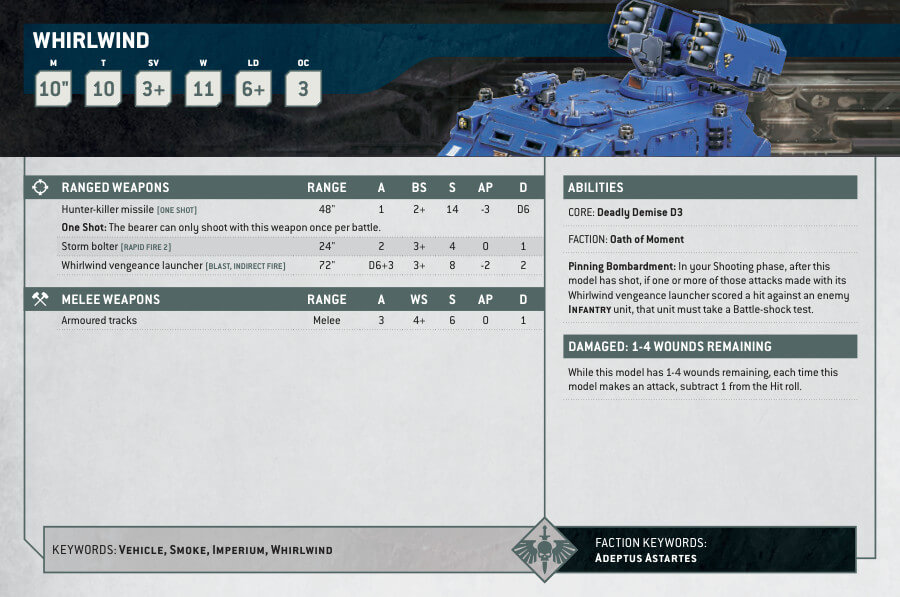 What's in the Whirlwind box
x85 plastic components that make one Whirlwind. The Whirlwind can be assembled in two different missile configurations: Vengeance or Castellan. The Vengeance missile launcher fires fewer missiles but has greater accuracy, while the Castellan missile launcher can fire a larger number of missiles but is less accurate. Additionally, the Whirlwind can be assembled with either a closed hatch or visible tank commander.
How to paint the Whirlwind Set