Armiger-class Knights, smaller and agile war machines of incredible power, provide mobile support and outrider capabilities to larger Knights, ensuring they are not surrounded in battle. Piloted by young squires or lowborn pilots, these nimble engines receive commands through the Helm Mechanicum from their Noble lords. The Armiger Warglaives, featured in this multipart plastic kit, excel at hunting down enemy armor with their deadly close combat weapon and thermal spear capable of melting through the toughest bunkers.
Additionally, the kit allows for the assembly of Armiger Helverins, a close-ranged Lords of War choice that provides valuable melee support to Imperial Knights armies or can be incorporated as a Freeblade squadron for other Imperium forces. Each Armiger Warglaive offers customization options with articulated poses, armor plating, six unique faceplates, and the choice of a carapace-mounted heavy stubber or meltagun. With their large carapaces, these models offer an engaging painting project.
Armiger Warglaives Datasheets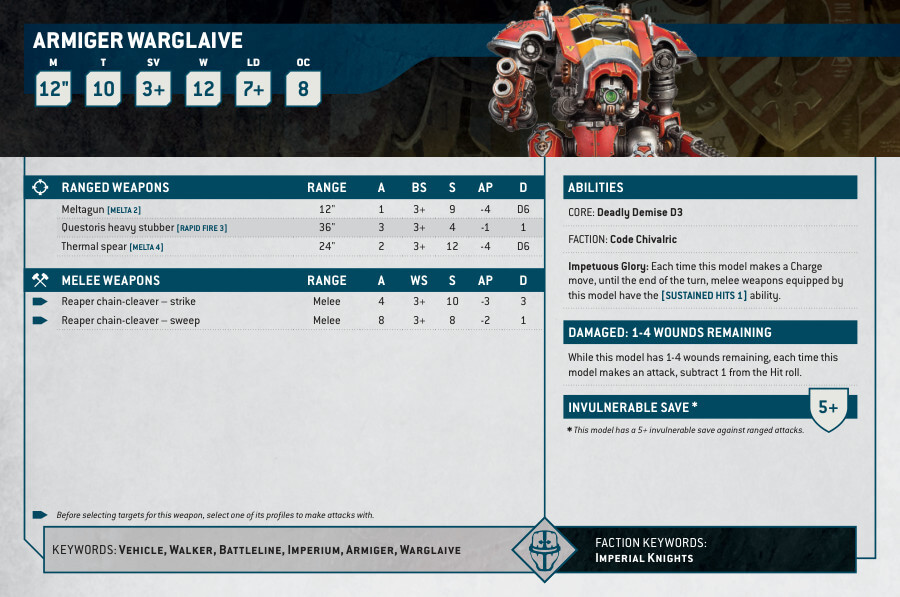 What's in the Armiger Warglaives box
x148 plastic components: This kit includes all the necessary plastic components to build 2 Armiger-class Knights. For Chaos Knights armies, the kit can alternatively be assembled as a pair of War Dog Executioners or War Dog Huntsmen, adding versatility to your forces.
x2 Citadel 100mm Round Bases: The kit comes with two Citadel 100mm Round Bases to provide a stable foundation for each Armiger.
x1 Armiger transfer sheet: Included in the kit is a transfer sheet featuring heraldry specifically designed for Imperial Knights. These transfers allow you to add intricate and detailed markings to your Armiger models, enhancing their visual appeal and personalization.
How to paint the Armiger Warglaives set