Introducing the formidable Bullgryns, selected from the toughest strain of Ogryn abhumans. Clad in robust heavy armor and armed with rugged assault weaponry tailored to withstand their immense strength, these imposing Astra Militarum figures strike fear into the hearts of their adversaries. Witness the awe-inspiring sight of a line of these heavily-muscled humanoids, advancing with impervious shield formations that render incoming shots harmless. With thunderous blows delivered by their mighty mauls and explosive grenades hurled with precision, the Bullgryns charge into battle with unwavering determination.
This multi-part plastic kit allows you to construct three Bullgryns, each embodying a massive, armored auxiliary. Equipped with heavy shields and formidable combat weapons, these Bullgryns are ready to engage in the heat of battle. Choose to arm each Bullgryn with either an explosive grenadier gauntlet or a formidable maul, and select between a towering slabshield for steadfast defense or a more agile brute shield for increased maneuverability. Immerse yourself in the customizability of this kit, featuring a diverse range of accessories and interchangeable components. Take advantage of four distinctive masked or bearded heads, three unique shield designs for each type, and an assortment of spare ammo, frag bombs, pouches, and flasks. Additionally, you'll find a special cybernetic head, designed specifically for a Bone 'ead squad leader.
Bullgryns Datasheets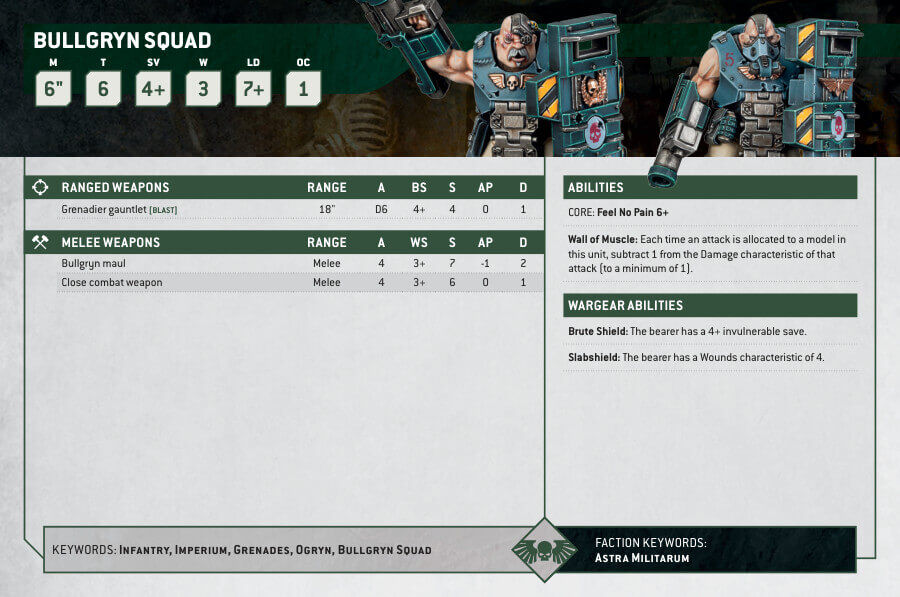 What's in the Bullgryns box
x121 plastic components, providing you with an extensive range of options for customization and assembly.
x3 Citadel 40mm Round Bases, specifically designed to perfectly fit and showcase your finished miniatures.
How to paint the Bullgryns Set