This Space Marines collection starter box includes three plastic Assault Intercessor models with distinct dynamic poses, ready to take on any enemy. The box also comes with all the necessary paints and a brush to get you started, and the models are push-fit, requiring only clippers for assembly and no glue.
Each model is equipped with a heavy bolt pistol and an Astartes chainsword, and one of them is depicted throwing a frag grenade. The armor and detailing on the models are consistent with the rest of the Assault Intercessors in the range, allowing you to easily add to your squad without any mismatched appearances.
Assault Intercessors Datasheets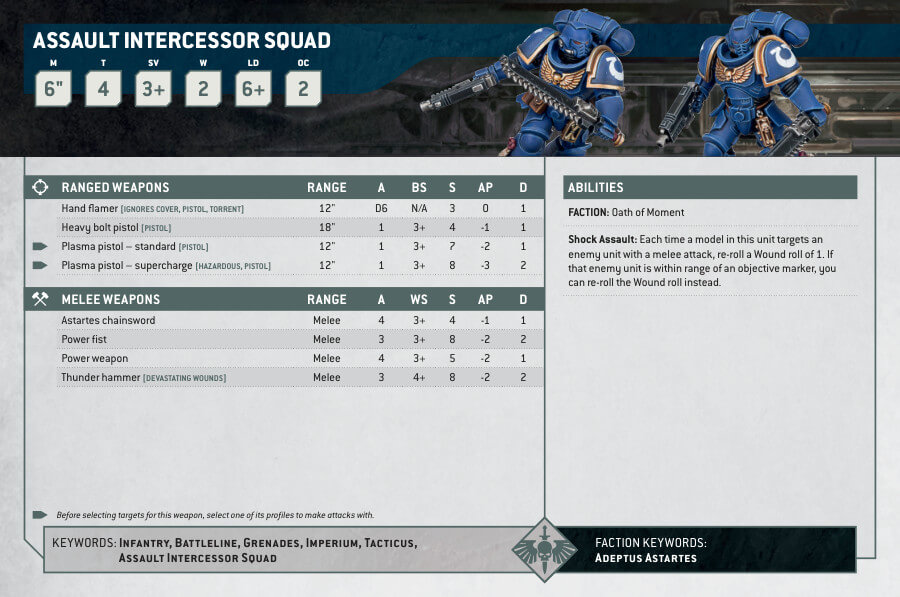 What's in the Space Marines: Assault Intercessors + Paints Set box
x3 Assault Intercessors that come in three distinct poses. They are made out of 17 plastic components which are also push to fit and don't require any glue.
x6 12ml pots of paint, which includes essential colors required to paint your Intercessors as Ultramarines, and a Technical paint that allows you to create textured bases. The colors include Macragge Blue, Balthasar Gold, Corax White, Abaddon Black, Agrax Earthshade, and Astrogranite.
x1 Citadel Starter Brush is included in the kit, which will help you get started quickly.
x3 Citadel 32mm round bases.
How to paint Space Marines: Assault Intercessors