The Tech-Priests Dominus are the masters of the Cult Mechanicus, and they are formidable warriors with a passion for war. They possess an incredible amount of knowledge, ranging from the trajectory of bullets to the optimal arcs for artillery fire, which they utilize to destroy their enemies with every command they issue from their cybernetic forms.
The Tech-Priest Dominus miniature is an imposing figure with a nearly fully cybernetic body. His insect-like metal legs and additional arms give him an otherworldly appearance, and his two interchangeable heads allow for customization to fit both the Cult Mechanicus and Skitarii aesthetics. He is equipped with a wide array of weapons, including a volkite blaster, a macrostubber, an eradication ray, a phosphor serpenta, and a power axe – which is his badge of office, complete with a microphone and loudspeaker.
Tech-Priest Dominus Datasheets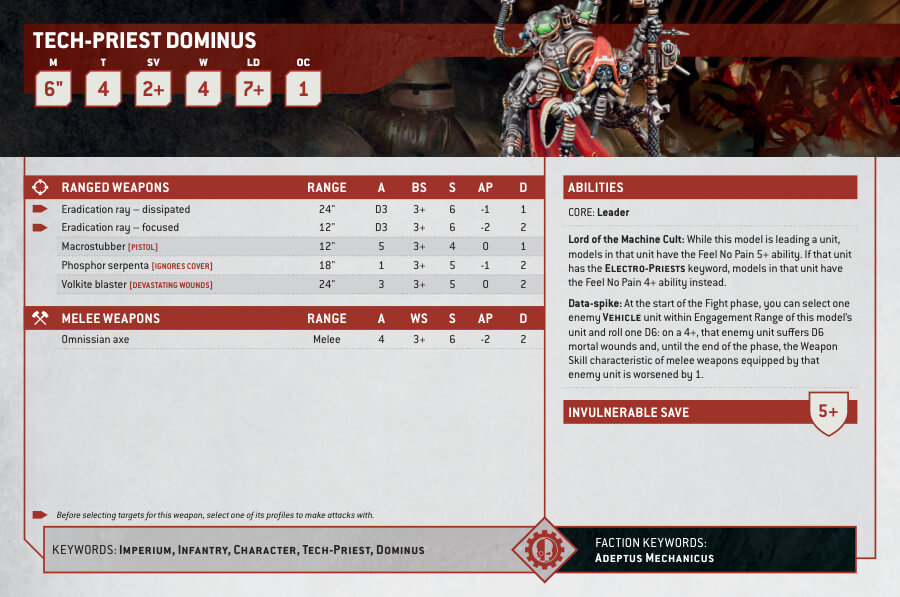 What's in the Tech-Priest Dominus box
x20 plastic components needed to make one Tech-Priest Dominus.
x1 Citadel 50mm Round Base.
How to paint the Tech-Priest Dominus Set