High Marshal Helbrecht stands as the embodiment of his Chapter's unwavering warrior ethos. Armed with the mighty Sword of the High Marshals, he charges headlong into battle, his thunderous oaths of vengeance inspiring his battle-brothers to follow without hesitation. To them, Helbrecht represents a living conduit to the Emperor himself.
Accompanying High Marshal Helbrecht are two devoted attendants. One carries his fearsome combi-melta, aptly named Ferocity, while the other meticulously maintains the revered Sword of the High Marshals. Helbrecht's presence on the battlefield is a catalyst for Black Templar valiance, transforming the surrounding terrain into a chaotic maelstrom of combat.
The High Marshal Helbrecht kit offers customization with three distinct head options, including two unhelmeted choices, allowing collectors to personalize their model. Additionally, an optional impaled Ork at his feet adds a gruesome yet striking detail to this formidable leader of the Black Templars.
High Marshal Helbrecht Datasheets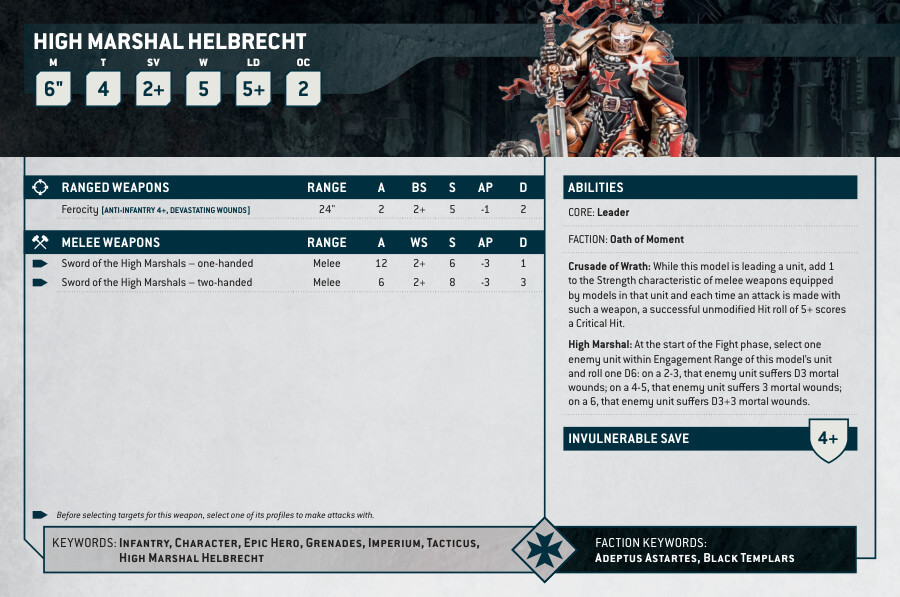 What's in the High Marshal Helbrecht box
x39 plastic components that make one High Marshal Helbrecht miniature.
x1 Citadel 60mm round base.
How to paint High Marshal Helbrecht
This miniature can be quite a challenge, even for experienced hobbyists. Lots of small details.
Check out this video for additional help, from a seasoned painter, that makes it look way easier 🙂