The Baal Predator is a formidable war machine, designed for rapid assault and devastating firepower. This variant of the Predator tank is specially outfitted by the Blood Angels Chapter, making it faster and more agile than its counterparts. With its heavy flamers and assault cannons, the Baal Predator is ideal for close-range combat and wreaking havoc on enemy infantry and light vehicles. Its advanced targeting systems and nimble maneuverability allow it to quickly adapt to changing battlefield conditions, making it a fearsome opponent. Clad in the iconic red and gold colors of the Blood Angels, the Baal Predator strikes fear into the hearts of those who dare to oppose the Chapter.
Baal Predator Datasheets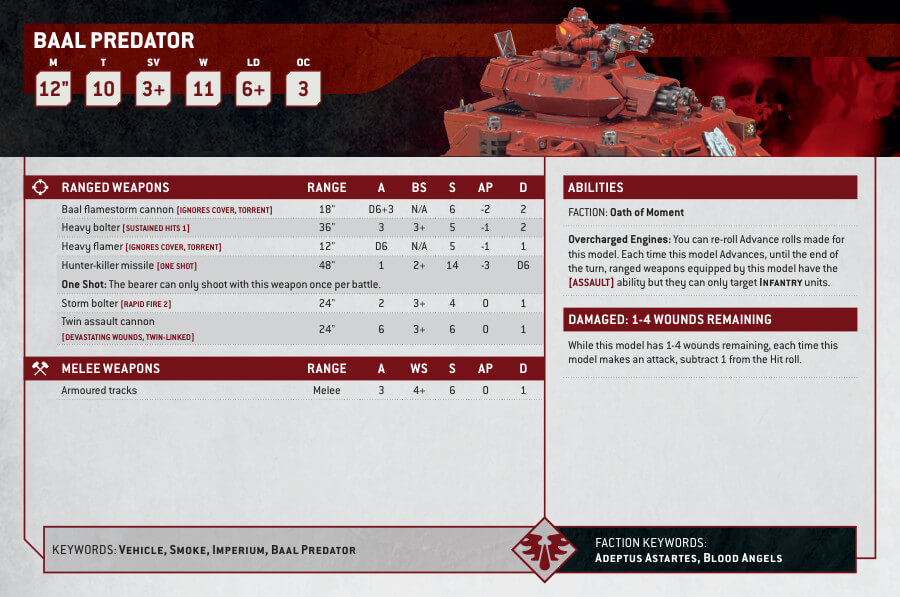 What's in the Baal Predator box
x110 plastic components that make 1 Baal Predator Tank. The kit also includes: a twin-linked assault cannon, a flamestorm cannon, a set of heavy flamers, a set of heavy bolters and smoke launchers. Also included are a host of Blood Angel icons that allow you to further detail your miniature, and a choice of a bare head or helmeted head for the tank commander.
How to paint Baal Predator