This massive multipart plastic kit constructs the Doomhammer, a formidable Astra Militarum super heavy tank capable of absorbing immense damage. Armed with a magma cannon on the turret, 2 lascannons on side turrets, twin heavy bolters on a forward hull turret, and 2 twin heavy flamers in sponson mounts, it packs a significant punch. You can customize it further by replacing sponson flamers with twin heavy bolters or adding extra sponsons with lascannons and either twin heavy bolters or twin heavy flamers. The troop-carrying capacity and firing deck for embarked units are also noteworthy.
The kit offers cosmetic options like extra stowage, additional armor plating, tow hooks, fuel, and choices for gunners and tank commanders in the hatches, including different heads. You'll have plenty of leftover plastic for your bits box.
This massive kit can alternatively build a variety of other super-heavy tanks:
Doomhammer Datasheets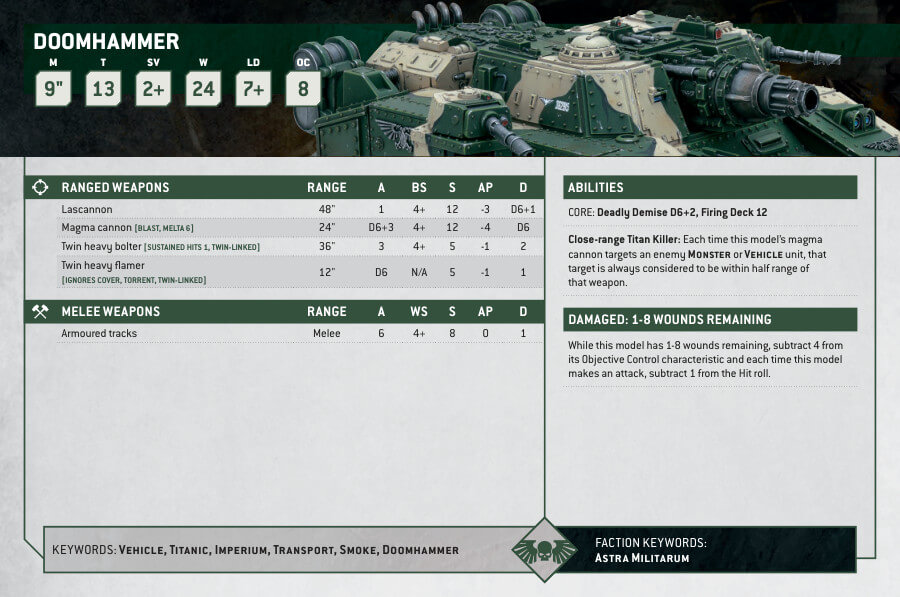 What's in the Doomhammer box
x381 plastic components to buid this impressive tank.
x1 Baneblade Transfer Sheet with 253 transfers.
How to paint the Doomhammer Set