The Stormlord stands as the ultimate Astra Militarum assault vehicle, capable of delivering devastating firepower while transporting squads of warriors. From its firing steps, embarked squads can direct their own volleys at the enemy. However, the true spectacle lies in the twin barrels of the Stormlord's vulcan mega-bolter, which unleash a hurricane of massive, mass-reactive shells, eclipsing all other firepower.
This gargantuan multipart plastic kit is a testament to Imperial engineering, crafting a super heavy Stormlord tank that can absorb punishment capable of annihilating a smaller army. If you seek a lynchpin for your armored column, the super heavy tank class is an exceptional choice. The Stormlord can both shock your adversaries and absorb incredible amounts of enemy firepower, thereby preserving the rest of your army.
The Stormlord is armed to the teeth, featuring:
A vulcan mega-bolter on the turret.
Two lascannons mounted on side turrets.
Twin heavy bolters adorning a forward hull turret.
Two twin heavy flamers in sponson mounts, which can alternatively be replaced with twin heavy bolters.
Additional lascannons, twin heavy bolters, or twin heavy flamers on extra sponsons.
Beyond its destructive capabilities, the Stormlord serves as a troop carrier, ferrying units into the heart of battle. It boasts a firing deck for embarked units, allowing them to contribute to the onslaught.
For those who appreciate the finer details, the kit includes cosmetic options such as extra stowage, additional armor plating for the treads, tow hooks, fuel canisters, and various choices for gunners and tank commanders in the hatches. You can even opt to build the tank commander on foot, armed with a bolt pistol or laspistol in one hand, and a power sword or pointing hand in the other.
As a bonus, your bits box will thank you for the surplus plastic components, providing ample extras for your future hobby projects.
This massive kit can alternatively build a variety of other super-heavy tanks:
Stormlord Datasheets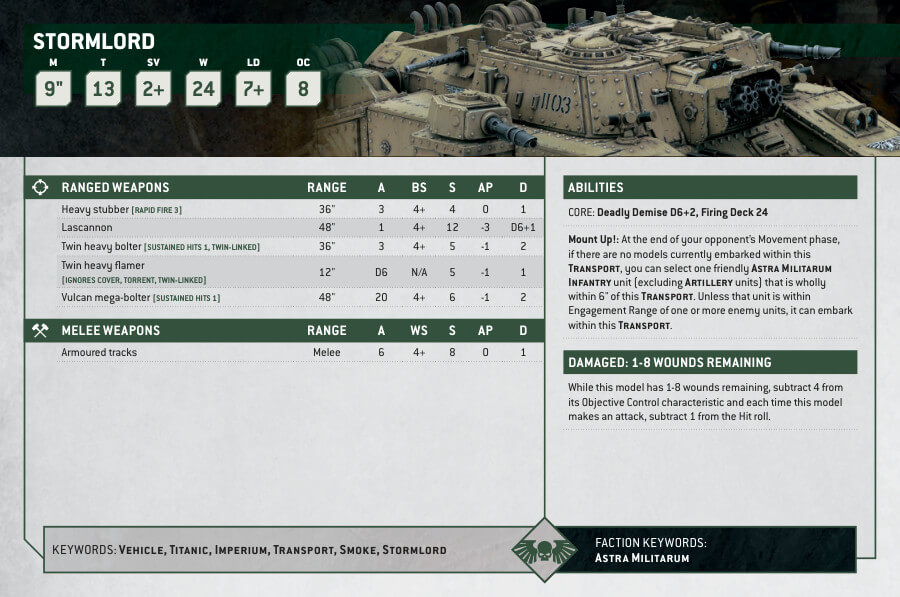 What's in the Stormlord box
x381 plastic components to buid the Stormlord tank.
x1 Baneblade Transfer Sheet with 253 transfers.
How to paint the Stormlord Set