This extensive multipart plastic kit assembles a super heavy Hellhammer tank, a formidable Astra Militarum lords of war option, armed to the teeth and capable of withstanding immense punishment. If you're seeking a central force to anchor a potent armored formation, a super heavy tank is an excellent choice, capable of both astonishing your adversaries and enduring a torrent of enemy firepower, thereby safeguarding the remainder of your forces.
This colossal tank boasts a formidable armament, including a hellhammer cannon and coaxial autocannon mounted on the turret, a demolisher cannon on the forward hull, 2 lascannons on side turrets, twin heavy bolters on the forward hull turret, 2 twin heavy flamers in sponson mounts, and a heavy stubber in a pintle mount atop the turret. The sheer firepower it brings to the battlefield is truly impressive.
Furthermore, you'll discover various cosmetic options available, such as additional stowage, added armor plating for the treads, tow hooks, fuel tanks, and choices for gunners and tank commanders stationed in the hatches, including different head options. Alternatively, you can build the tank commander on foot, arming them with a bolt pistol or laspistol in one hand and a power sword or a commanding pointing hand in the other. Regardless of your chosen configuration, you'll have surplus plastic parts to enhance your bits box.
This massive kit can alternatively build a variety of other super-heavy tanks:
Hellhammer Datasheets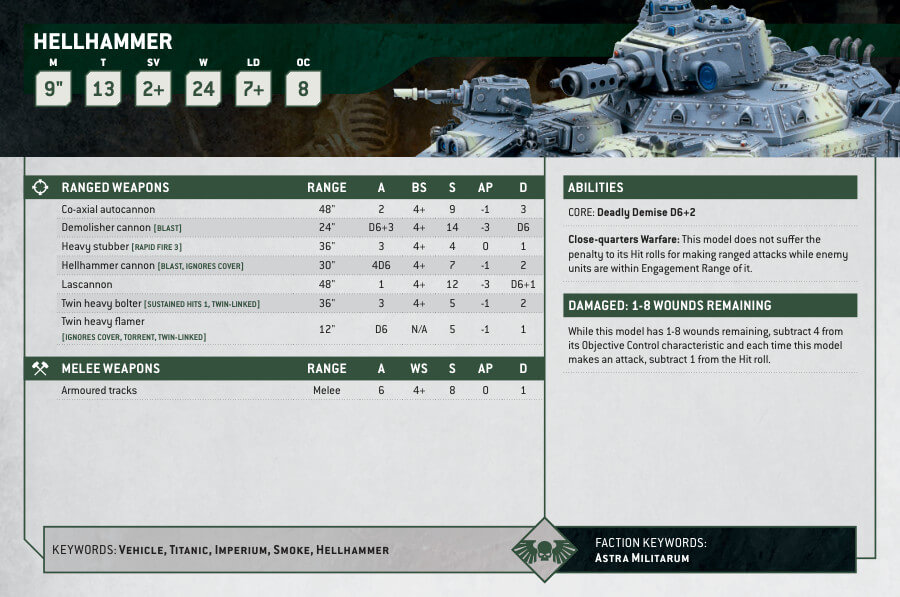 What's in the Hellhammer box
x381 plastic components to buid the Hellhammer or other astra militarum variant.
x1 Baneblade Transfer Sheet with 253 transfers
How to paint the Hellhammer Set