At its core, the Stormsword boasts a siege cannon that unleashes destruction with every shell fired. These shells detonate with a concentrated concussive wave, transforming barricades and battlements into chaos. The resulting slivers of debris become the bane of your adversaries, as they're torn apart by the relentless storm of destruction. When you deploy the Stormsword, you're not just entering the battlefield; you're announcing your presence with thunderous authority.
The Stormsword comes armed to the teeth, ready to deliver devastation where it's needed most. Its primary weapon, the stormsword siege cannon, is mounted on the turret, and it's the harbinger of destruction. Additionally, the tank features 2 lascannons on side turrets, twin heavy bolters on a forward hull turret, and 2 twin heavy flamers in sponson mounts. The sheer firepower at your disposal is staggering, ensuring that your enemies will tremble in the face of this mechanical Astra Militarum titan.
This kit offers more than just raw firepower; it's a canvas for your creativity. You'll discover a multitude of cosmetic options, allowing you to personalize your Stormsword to suit your vision. Add extra stowage, fortify the treads with additional armor plating, or attach tow hooks and fuel tanks for that authentic war-machine look. Dive into the details even further with options for gunners and tank commanders in the hatches, including a choice of different heads. The possibilities are limited only by your imagination.
The Leftover Bounty: As you assemble your Stormsword, you'll find yourself with extra plastic pieces that can be a treasure trove for your bits box. These bonus components can be invaluable for customizing other models in your collection, giving you even more versatility as a hobbyist.
This massive kit can alternatively build a variety of other super-heavy tanks:
Stormsword Datasheets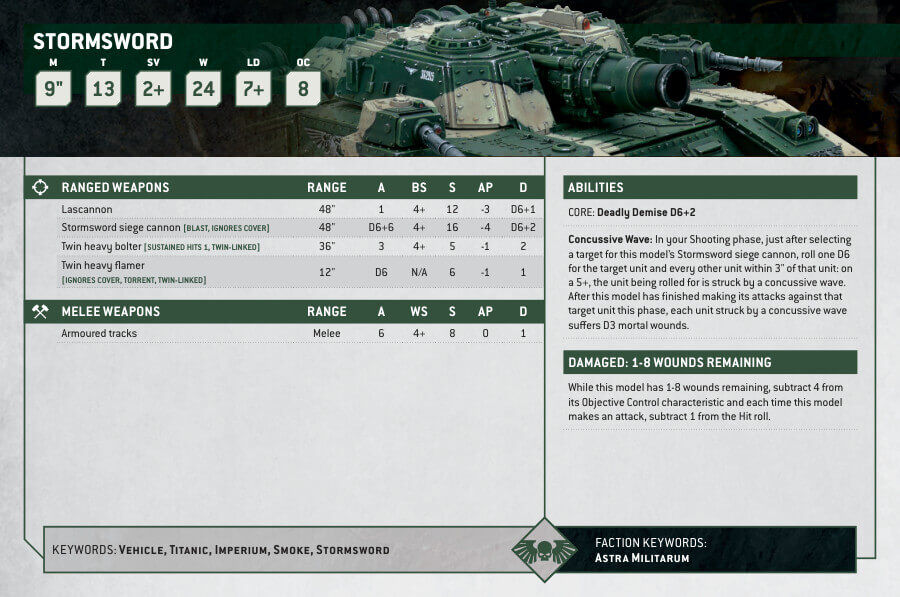 What's in the Stormsword box
x381 plastic components to make this impressive tank.
x1 Baneblade Transfer Sheet with 253 transfers.
How to paint the Stormsword Set