Crafted from a monumental multipart plastic kit, the Shadowsword stands as a colossal titan of the battlefield. It's a thundering Astra Militarum tank armed to the teeth, ready to absorb punishment that could obliterate an entire small army. If you seek the cornerstone around which to build an unstoppable armored force, a super-heavy tank like the Shadowsword is an excellent choice. It has the power to shock your foes and withstand an astonishing barrage of enemy fire, safeguarding the rest of your army.
The Shadowsword's arsenal is nothing short of awe-inspiring. It boasts a mighty volcano cannon mounted on the turret, flanked by two formidable lascannons on side turrets. Up front, you'll find twin heavy bolters nestled in a forward hull turret, and it doesn't end there. The sponson mounts house two twin heavy flamers, but if you're craving even more firepower, you can switch them out for another pair of twin heavy bolters. And if that's not enough, you have the option to add extra sponsons, equipped with additional lascannons and your choice of twin heavy bolters or twin heavy flamers. The Shadowsword's capacity for destruction is truly staggering.
But it's not all about sheer firepower; this kit also offers a range of cosmetic options. You can customize your Shadowsword with extra stowage, additional armor plating for the treads, tow hooks, fuel canisters, and various choices for gunners and tank commanders in the hatches. Speaking of commanders, you can even build the tank commander on foot, armed with a bolt pistol or laspistol in one hand, and the choice of a power sword or a pointing hand in the other. And don't forget the bonus – you'll have plenty of spare plastic components left over to enhance your bits box. The Shadowsword is more than just a war machine; it's a versatile canvas for your creative vision on the battlefield.
This massive kit can alternatively build a variety of other super-heavy tanks:
Shadowsword Datasheets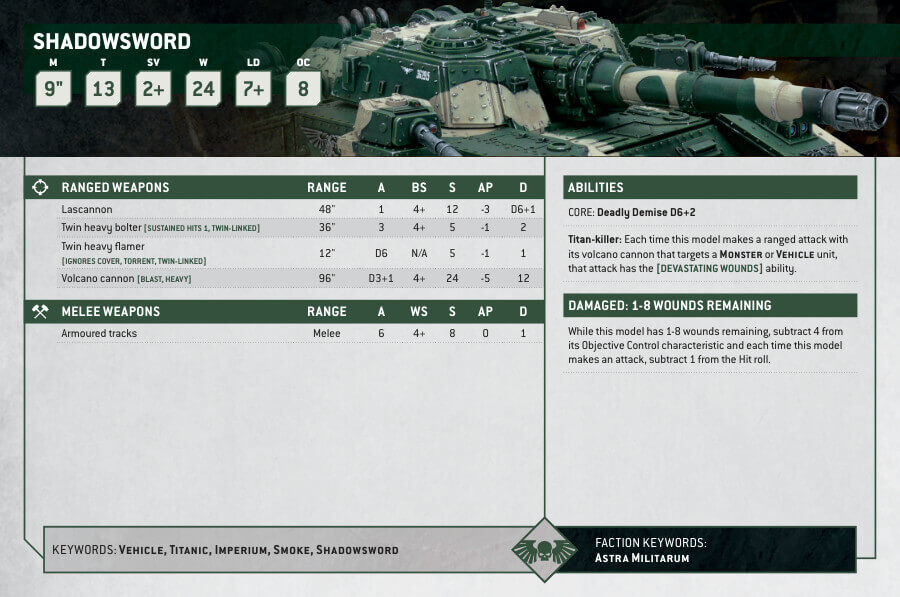 What's in the Shadowsword box
x381 plastic components, making it a massive model with lots of detail and parts to work with.
x1 transfer sheet containing 253 transfers for the Baneblade, allowing you to add detailed markings and heraldry to your model.
How to paint the Shadowsword Set