These troops are equipped with the latest Mk X Phobos armour, making them lighter and faster on the battlefield. But their real strength lies in their weapons: the occulus bolt carbine and multi-spectrum targeting array. With these tools, they can take down their targets with deadly accuracy, no matter what the battlefield conditions may be. And if that's not enough, each Incursor squad also carries haywire mines, capable of taking out even the most heavily-armoured enemy vehicles.
But the Incursors marksmanship doesn't stop there. Each member of the squad is a superb shot, able to take out their targets with ease, even through the thickest cover. And with additional parts included, you can even build up to two squad Sergeants, adding even more firepower and leadership to your forces.
So if you're looking for a fast and deadly addition to your Space Marine army, look no further than the Primaris Incursors. They're the perfect choice for any commander who demands precision and versatility from their warriors.
Primaris Incursors Datasheets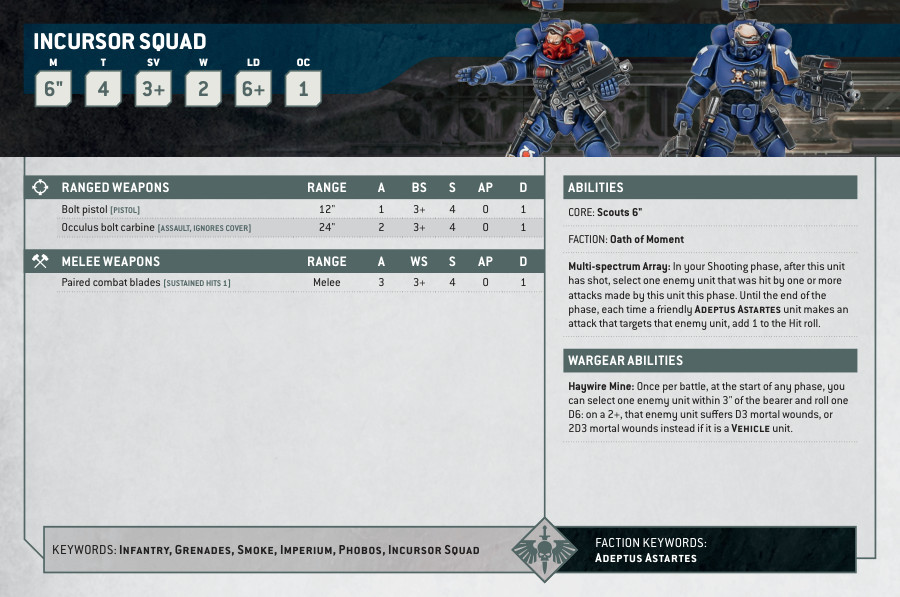 What's in the Primaris Incursors box
x266 plastic components that make 10 miniatures, which are contained in two identical frames, each with five models that can be built as either Infiltrators or Incursors, giving you plenty of customization options. The Primaris Incursors come equipped with occulus bolt carbines, perfect for taking out both infantry and vehicles. Each squad also includes haywire mines, making them a versatile and deadly addition to any Space Marine army. Comes with additional parts to build up to two squad Sergeants, adding even more leadership and firepower to your forces.
x10 Citadel 32mm round bases.
x1 Space Marines Infantry Transfer Sheet, making it easy to add these warriors to your army and customize their appearance.
How to paint the Primaris Incursors