Bipedal all-terrain vehicles employed by the Astra Militarum for patrolling rugged terrains and delivering swift and powerful firepower when needed. Among them, the Armoured Sentinels stand out as exceptional frontline predators, boasting additional protective panelling that enables them to excel in challenging combat situations. These formidable mobile hunter-killers carry devastating heavy weapons, making them formidable against vehicles, fortified bunkers, and even monstrous xenos creatures.
This multipart plastic kit allows you to construct an Armoured Sentinel, a nimble walker equipped with an array of heavy firepower on a sturdy frame. With a plethora of options, you can tailor your Sentinel for any battlefield role, choosing from an autocannon, heavy flamer, missile launcher, multi-laser, or plasma cannon. For enhanced close-quarters combat, you can equip your walker with a poseable Sentinel chainsaw, while a hunter-killer missile provides an extra punch of firepower. Additionally, the kit offers cosmetic options such as a searchlight, smoke launchers, stowage and spare equipment racks, and extra fuel canisters.
Alternatively, this versatile kit also allows you to assemble a Scout Sentinel featuring an open cockpit. While sacrificing some durability, the Scout Sentinel compensates with exceptional speed, making it ideal for warzones that demand swift mobility.
Armoured Sentinel Datasheets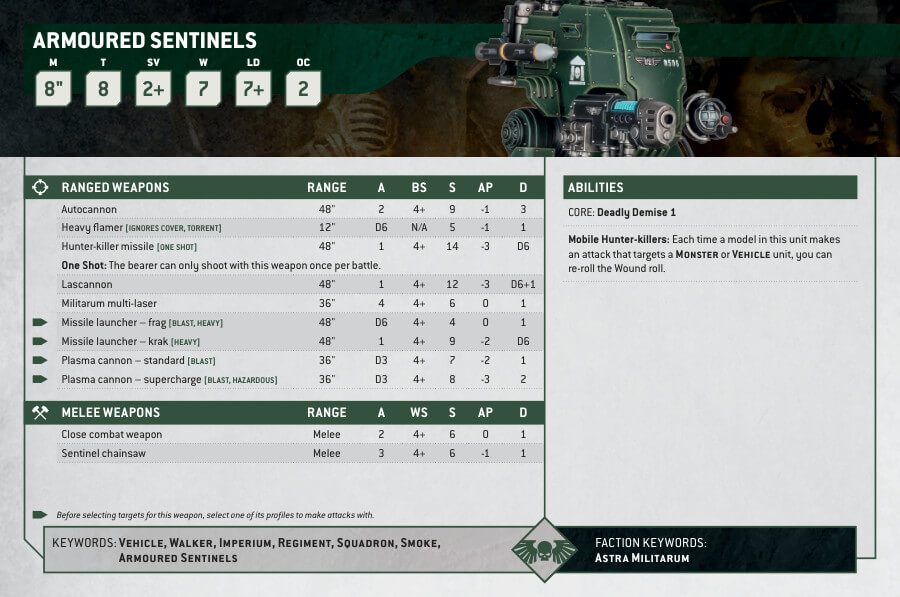 What's in the Armoured Sentinel box
x91 plastic components that make 1 Armoured Sentinel
x1 Citadel 80mm Round Base
x1 Astra Militarum Vehicle Transfer Sheet, with 475 transfers featuring numerals, sigils, and a variety of regimental heraldry.
How to paint the Armoured Sentinel set