Lieutenants are an indispensable part of any Adeptus Astartes faction, serving as the right hand of their Captains and providing flexibility on the battlefield. They excel in directing their battle-brothers and are often given the responsibility of commanding a demi-company or strike force, overseeing squad-level combat logistics, and serving as an exemplary leader.
One such Lieutenant, clad in the sleek and modern Mark X Reiver armor, is a prime example of the Adeptus Astartes' unmatched combat prowess. This skilled warrior is dynamically posed, running full speed towards the enemy while concealed behind a screen of smoke. He is a true asset to any Adeptus Astartes army, capable of elevating the troops around him to even higher martial standards.
With his impressive abilities and unwavering dedication to the cause, this Lieutenant is the perfect addition to any Adeptus Astartes army. Whether you are looking to bolster your forces or lead your troops to victory, this dynamic and versatile leader is a must-have for any aspiring Space Marine commander.
Primaris Lieutenant in Reiver Armour Datasheets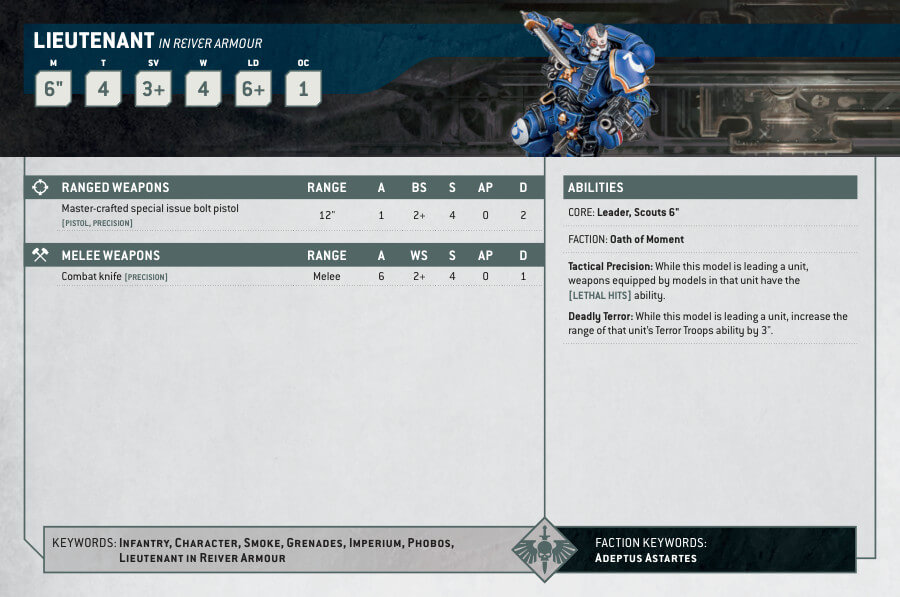 What's in the Primaris Lieutenant in Reiver Armour box
x12 plastic parts that allow you to build 1 Primaris Lieutenant in Reiver Armor.
x1 Citadel 40mm Round Base that provides a stable platform for the miniature.
How to paint the Primaris Lieutenant in Reiver Armour