The Primaris Techmarines are a vital addition to any Space Marine army that relies heavily on armored warfare. These specialists can be seen bravely traversing the battlefield, even under heavy fire, in order to tend to the machine spirits of wounded tanks and war machines. With their unique set of skills and specialized tools, Techmarines can expertly repair burnt-out cabling, warped panels, and damaged armor plates. For optimal performance in battle, be sure to include a Techmarine or two in your army!
The model is equipped with a grav-pistol, a pistol that uses graviton technology to propel its rounds, which is useful for close combat situations. Additionally, the Techmarine is armed with an Omnissian power axe, a powerful melee weapon that can easily cut through armour and flesh.The model also features a servo-arm, which can be used to make repairs or manipulate objects.There is a mechadendrite, which is a cybernetic tentacle-like appendage, that can be used to aid in repairs or hacking.
The Techmarine model is also fitted with a shoulder-mounted forge bolter, a powerful rapid-fire weapon used for ranged combat.
Primaris Techmarine Datasheets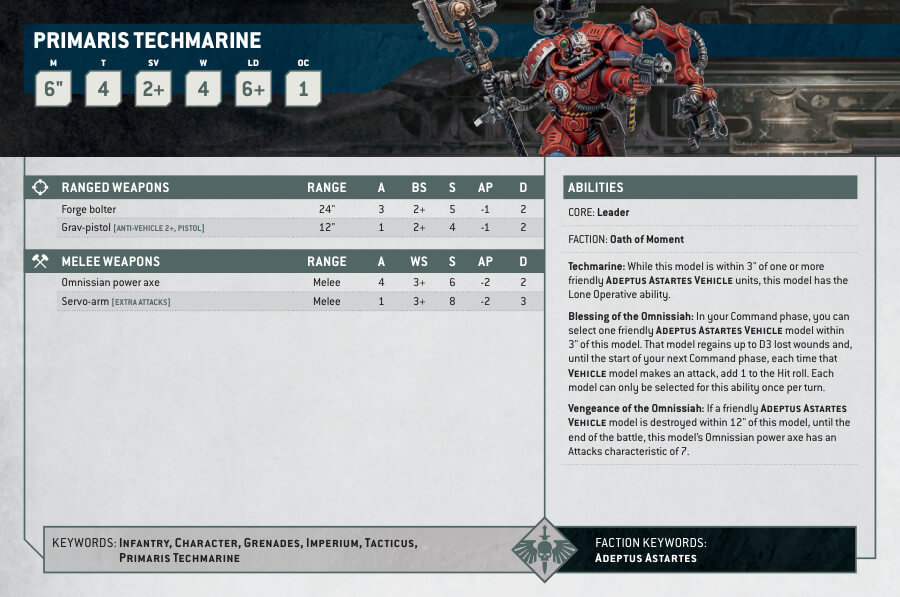 What's in the Primaris Techmarine box
x24 plastic components that make The Primaris Techmarine.
x1 Citadel 40mm Round Base.
How to paint the Primaris Techmarine