The Sanguinor is a legendary figure among the Blood Angels, believed to be an angel of vengeance sent from the heavens in times of great need. While some dismiss him as mere myth, those who have witnessed him in battle know that he is a powerful force to be reckoned with.
The miniature itself is incredibly detailed, with intricate designs featuring heavily throughout. Its two angel wings are outstretched, reflecting the pose of its arms. In one hand, the Sanguinor carries a grail, while in the other, it wields a sword with a hilt in the style of the Blood Angels icon. Details such as winged motifs on the torso, laurel wreaths on the knee armor, and gemstones and metal studs can be found throughout the figure. An iron halo is also set between the wings, and raised, sculpted details of the Blood Angels iconography are present on the shoulder pads.
The Sanguinor, Exemplar of the Host Datasheets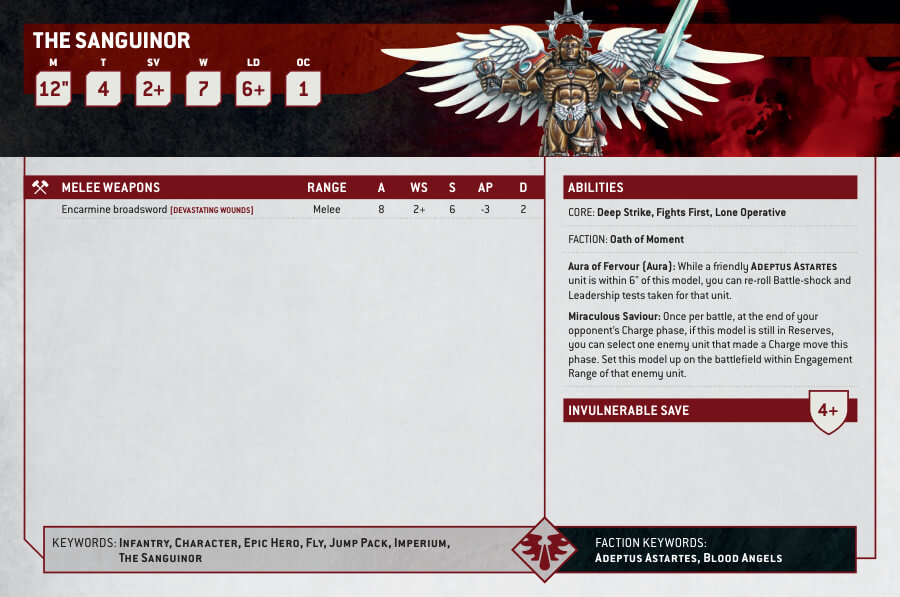 What's in The Sanguinor, Exemplar of the Host box
x3 resin components, making it easy to assemble The Sanguinor, Exemplar of the Host.
x1 Citadel 25mm round base.
How to paint The Sanguinor, Exemplar of the Host