The Primaris Space Marine Librarian is a powerful psyker who wields the power of the warp to obliterate his enemies. This multi-part plastic kit comes with all the components required to build a Primaris Librarian, featuring ornate Mk X power armor with a multi-layered cloak and intricate wiring that leads to the psychic hood. Armed with a force sword in his right hand, and a holstered bolt pistol, this kit is complete with a padlocked book on his belt, large keys, purity seals, and an Imperial Eagle clasp. The Primaris Librarian comes with a choice of two heads, one helmeted with a psychic hood and the other bare-headed, and two shoulder pads with ram's heads, the insignia of the Librarius. The left shoulder pad is left smooth and blank, allowing players to easily apply the markings of their preferred Chapter.
Primaris Librarian Datasheets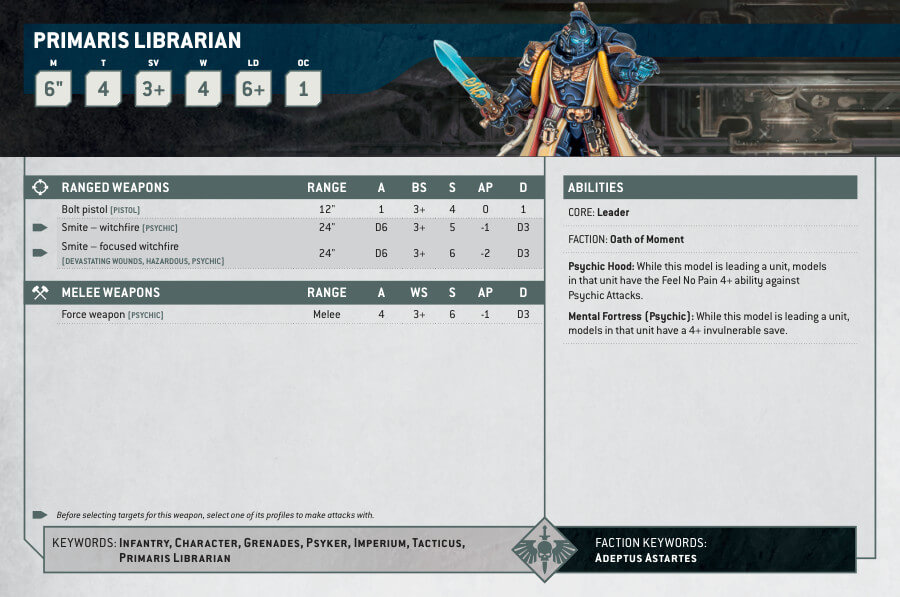 What's in the Primaris Librarian box
x20 plastic components to create The Primaris Librarian miniature.
x1 Citadel 40mm Round base where it can be mounted.
x1 Ultramarines-Character Transfer Sheet which can be used to add extra details to the miniature. The transfer sheet features iconography for four different types of Space Marine characters: Captain, Chaplain, Librarian, and Lieutenant.
How to paint the Primaris Librarian