The Sanguinary Priests serve as the Apothecaries of the Blood Angels Chapter, responsible for protecting and preserving their precious gene-seed. Each Priest carries a blood chalice, said to contain a fragment of the essence of Sanguinius himself, which empowers nearby Blood Angels to achieve even greater acts of bravery and heroism. These Priests are among the most respected and revered members of the Chapter, embodying its noble ideals and selfless service to the Emperor.
Sanguinary Priest Datasheets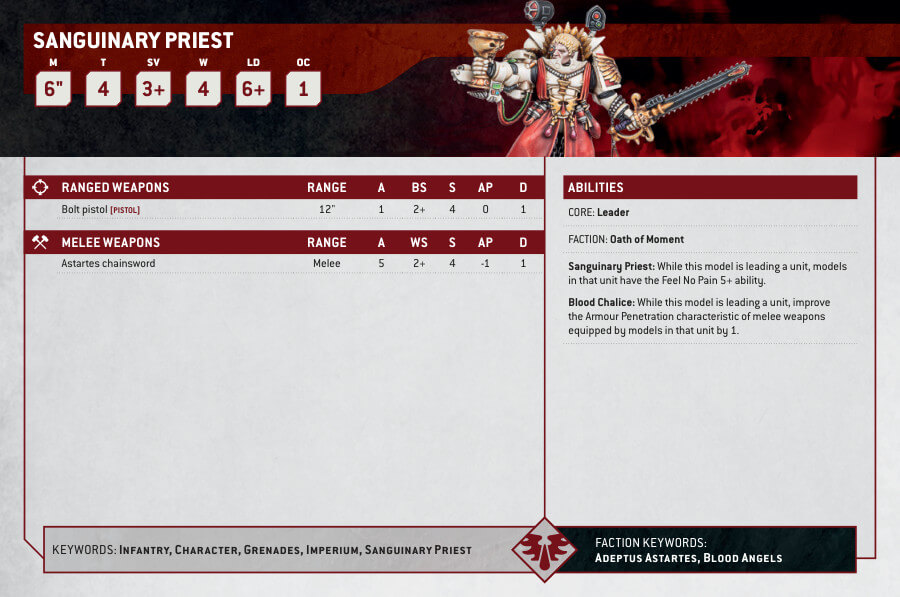 What's in the Sanguinary Priest box
x11 plastic components to make a Blood Angels Sanguinary Priest. The Sanguinary Priest is armed with a double-edged chainsword, which is a melee weapon used for close combat.
The model holds a blood chalice, which is a sacred cup believed to contain a fragment of Sanguinius's essence. It is used to inspire nearby Blood Angels to greater bravery and feats of heroism. He is also equipped with a narthecium, which is a medical instrument used by Space Marine Apothecaries to extract and preserve gene-seed from fallen brothers.
x1 scenic 32mm round base, which can be used to display the model.
How to paint the Sanguinary Priest